Canada: Milad-un-Nabi (PBUH) gathering held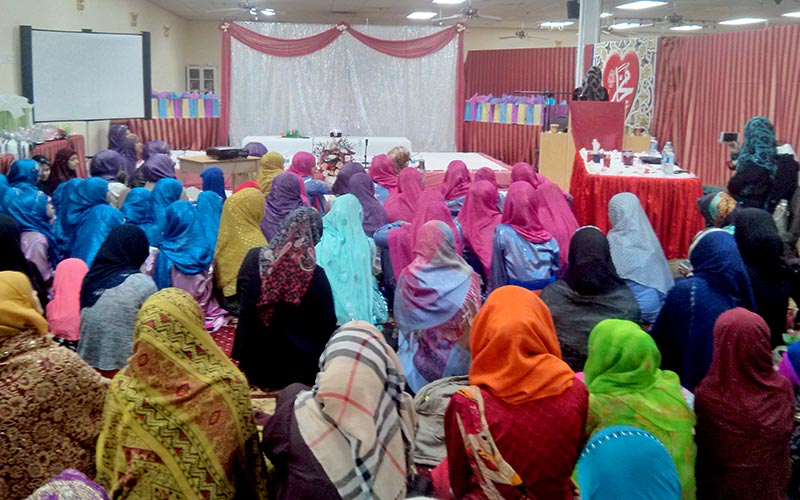 Through the blessing of Allah (SWT) and the 'waseelah' of Holy Prophet (peace and blessings be upon him), a Mawlid un Nabi (peace and blessings be upon him) ceremony was organized under the banner of Minhaj-ul-Quran Sisters Youth League on February 7th in Mississauga, Canada. This event was held under the leadership of Sister Zunera Chaudhary, President of Minhaj Sisters Youth League and her entire team. Youth of all ages attended this spiritual Mehfil in a large number.
The honourable guest was sister Khadija Qurra-tul-ain Qadri, the beloved daughter of Shaykh-ul-Islam Dr. Muhammad Tahir-ul-Qadri. And the special speaker of this program was Sister Basima Hassan Qadri, the beloved granddaughter of Shaykh-ul-Islam. Sister Basima Hassan Qadri enlightened the hearts of the audience with her substantial Islamic knowledge.
Sister Zunera welcomed the audience and the program was initiated with the recitation of the Holy Quran by sister Rabia Awan.
The Glorious Hamd and Nasheed recited by various groups of Minhaj Sisters Youth and some special guests. Beautiful Islamic poems, 99 Names of Holy Prophet (peace and blessings be upon him), were also read by several sisters.
Sister Aisha Malik and Iqra Sheikh presented the introduction of Minhaj-ul-Quran in a very comprehensive manner by using the overhead projector.
The beauty of this blessed Mehfil was increased by the participation of sisters, who are students of elementary school, secondary school, college and university. This program was specially organized for the youth by the Youth in Canada.
Sister Areej Syeda was the master of ceremony. She thanked Basima Baji for her significant speech and praised the youth for showing great interest in Basima Baji's speech.
Later, Sister Zunera Chaudhry concluded the program and thanked everyone for their sincere participation and cooperation. Towards the end of the program prizes were distributed among all the participants and the audience.
The program ended with the salutation on the Holy Prophet (peace and blessings be upon him) and final Dua was made by sister Khadija Qurra-tul-ain Qadri.
Dinner was served at the end of the program and all the kids were given small gifts. Overall, it was a very successful spiritual gathering for the Youth.