Australia: Dr Hassan Mohi-ud-Din Qadri addresses 3rd Australian Conference on Islam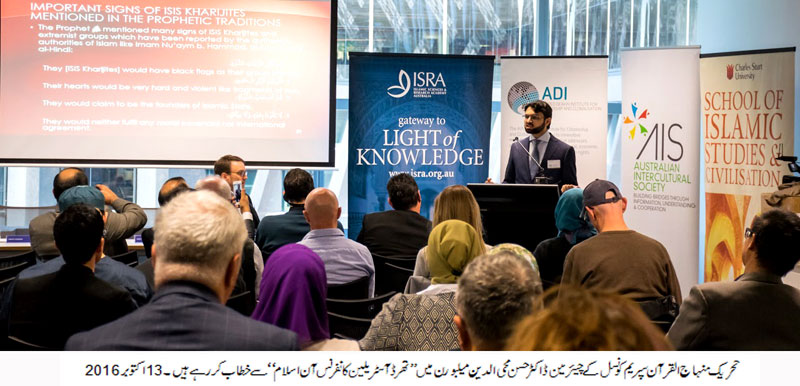 Dr Hassan Mohi-ud-Din Qadri, Chairman Supreme Council, MQI, delivered his keynote lecture at "Third Australian Conference on Islam" in Melbourne yesterday. He said that Islamic ideology is based on knowledge, peace, forbearance and tolerance and there is no space for terrorism and extremism in it. He said that it is not just Islam, no religion of the world allows taking the life of innocent people. He said that efforts to associate terrorism with religion and politics have been counterproductive and really helped the terrorist organizations get strengthened.
The Conference was attended by leading intellectuals, religious leaders, opinion makers and civil society activists. Dr Hassan Mohi-ud-Din is on a two-week tour of Australia in connection with attending the Conference. In addition to speaking at various events, he would also address a peace conference under the banner of MQI Australia.
Addressing the Third edition of the Australian Conference on Islam, Dr Hassan said that the Holy Prophet (peace and blessings be upon him) forewarned of the mischief of ISIS some 1400 years ago. He had also informed about their identities and details of the methodologies and tactics of such groups. He said that the approach of branding ISIS and Al-Qaeda with Islam is not correct, which do not represent the mainstream Islam and Muslim community. He said that the phenomenon which the world knows as ISIS was described as 'Khwarij' by Islam. He said that these are the people who spread mischief and anarchy in the world for the sake of their interests, take innocent lives and indulge in bloodshed.
The Chairman of Supreme Council said that Islam is a complete code of life and peace is central pillar of its teachings. He said that the Holy Quran described the killing of one innocent person as the killing of entire humanity and likened the saving of one person to saving the entire humanity. He put forward a rhetorical question, asking how can a religion, which teaches civilization, peace, tolerance and respect for others, urge its followers to take the life of innocent people?
Dr Hassan Mohi-ud-Din Qadri said that for terrorism and extremism to be eliminated for good, the nations of the world would have to forge unity in their ranks and come together on the agenda of saving humanity. He suggested to the governments to put forward peace narratives and formulate frameworks for their implementation. He said that Dr Tahir-ul-Qadri is one of the towering Islamic scholars who issued counter-terrorism Fatwa against suicide bombings besides authoring 25 books in Arabic, English and Urdu languages. He said that this historic document of Dr Qadri has won international applause and his work is a great service to the humanity.