Dr Tahir-ul-Qadri's unforgettable visit to Glasgow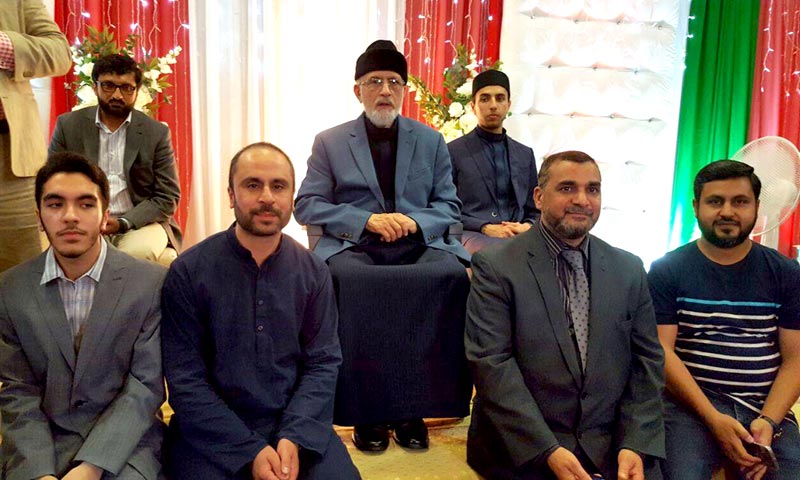 The visit of Shaykh-ul-Islam Dr Muhammad Tahir-ul-Qadri, the founding leader of Minhaj-ul-Quran International, was something special and unique to the city of Glasgow.
For those who were there, whether they are Muslim or not, it was an event they would never forget. Over 500 hundred people attended the event to welcome their beloved leader at the Kabana function hall in Glasgow.
It was hosted by Minhaj-ul-Quran Glasgow to honour their beloved leader and to highlight the dedication of the members of Minhaj-ul-Quran in Glasgow.
The atmosphere was electrifying, along with the good weather. Dr Qadri's visit has been seen here as a resounding success. There's been enormous enthusiasm for their leader and the themes he's focused on was - helping one another to achieve the goals of the mission, the importance of the family, and leading a clean life.
Those who couldn't be at the front for the event stood patiently at the back as close as they could to catch glimpse of Dr Qadri on his way there. A few told us that their whole family had come in from other parts of the world to stay over the weekend and ensure they saw Dr Qadri on what they see as a historic, once in a lifetime visit. One man, said: "We are here to bear witness also, to see Sheikh-ul-Islam personally."
Crowds praised and cheered as Dr Qadri stopped at various points to greet his followers. "It's such deep joy - so much hope for our country - we really need his message - we need transformation among us and that is what he told us," one of the participants of the event told us.
Dr Qadri opened the event by speaking to various members of the local, national and international media. Dr Qadri emphasised that on returning to Pakistan there will be a national consultation with every opposition party in Pakistan on three main issues including the justice for the killings of innocent people in model town on 17th June 2014, to concentrate on the corrupt activities of various leaders of Pakistan and to ask a simple question by keeping these corrupt practices by various leaders; is it in the interest of Pakistan or not. If so, then a plan on how to stop these corrupt practices and the best way to remove those people who are in office and continue to do corruption.
Dr Qadri then briefly listened to everyone about their experiences with Minhaj-ul-Quran and on their contributions towards it. In his address to the audience about bringing up children and the importance of the mission of Minhaj-ul-Quran, Dr Qadri said that: "this is a very important aspect of our life. When a child is born he doesn't understand the certain acts."
Dr Qadri, who comes from Pakistan, was applauded when he urged everyone to stay united even in difficult times, especially those who are working for the benefit of humanity through Minhaj-ul-Quran. He prayed that everyone would have the desire to leave behind all past wrongs and wounds, and to build fellowship for all, without ever yielding to the temptation to withdraw or to domineer.
By Shahid Ashraf Khan (Media Secretary Glasgow)