The Holy Quran is originator of modern scientific knowledge: Dr Hassan Mohi-ud-Din Qadri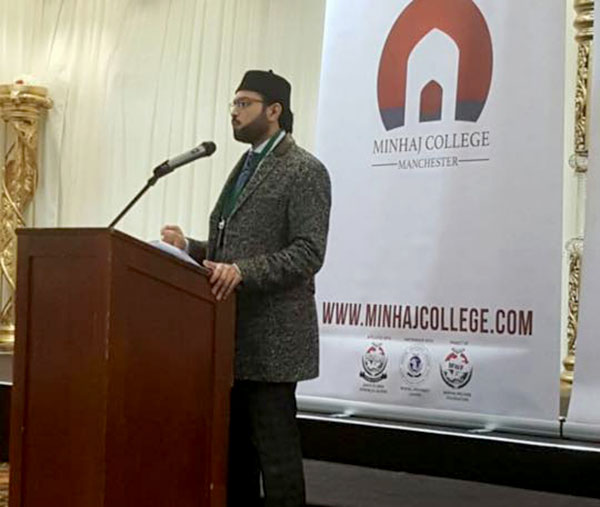 Addressing the inaugural ceremony of the establishment of Minhaj College in Manchester, Dr Hassan Mohi-ud-Din Qadri, Chairman of MQI Supreme Council, has said that all scientific knowledge has originated from the Holy Quran. He said that both contemporary and religious sciences are taught in the educational institutions run under the banner of MQI.
The families of the Pakistani origin living in the city have expressed their extreme pleasure on the establishment of the Minhaj College. They said that they faced problem with regard to moral and spiritual training of their children in the absence of credible institution, adding that with this educational initiative, their problem has been resolved. They thanked Dr Tahir-ul-Qadri for this step of establishing the college.
Dr Hassan Mohi-ud-Din Qadri asked the parents to dedicate their intelligent children to acquire religious education. He said that we have incorporated the imparting of modern-day scientific knowledge in the educational strategy. He said that the outcome of life-long scholarly pursuits of Dr Tahir-ul-Qadri is that without getting the contemporary education in the modern disciplines, one cannot succeed in projecting the teachings of Islam. He said that the Holy Quran is the source and origin of the modern-day sciences, adding that there is a need to make the young generation understand that simultaneous study of the religious and modern-day sciences is a must to get gainful and productive knowledge.
The Chairman Supreme Council said that MQI is working for promotion of peace, love and interfaith dialogue in the world. He said that in order to defeat the forces of extremism and terrorism, MQI has led an intellectual war against these scourges from the front. He said that establishment of educational institutions throughout the world is part of the strategy to eliminate terrorism at the intellectual level. He said that the idea is to make the young minds connect to the real teachings of their religion and familiarize them with the notions of peace, tolerance, and moderation. He said that knowledge for service to humanity is our motto.
He said that the projects under MQI are run on the basis of 'no profit, no loss' and it is for this reason that this journey of service to humanity and promotion of knowledge has not halted even for a single moment. He said that MQI has continued to render its services in over 90 countries of the world.
The students expressed their pleasure on the establishment of the College and said that Dr Tahir-ul-Qadri is playing highly important role in beautifying the future of the coming generations.