Minhaj Asian Council meets to discuss Dr Tahir-ul-Qadri's Asian visit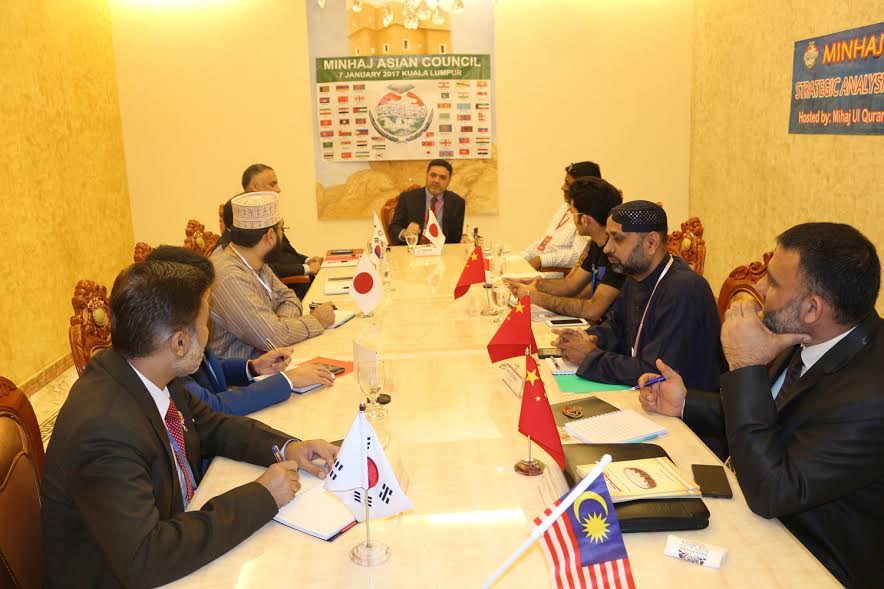 Minhaj Asian Council (MAC) is striving its best for the promotion of Islam's message of peace love and harmony under the leadership of Shaykh-ul-Islam Dr. Muhammad Tahir-ul-Qadri. For effective communication with its member country organizations, MAC continuously holds meetings using video conference technology and other social media communication solutions.
To further improve the organizational synergy, and expedite the work in Asian Countries, MAC has planned to hold a series of physical meetings in member countries. The purpose of these physical meetings is to analyze the current working progress, plan for the future strategies and to have a better communication through face to face interaction with National Executive Council (NEC) and Local Executive Council (LEC) members of relevant countries. The first meeting of this series was held in Kuala Lumpur, Malaysia at 11:00 am MST on Saturday, 7th January, 2017, under the title of "MAC Strategic Analysis and Planning Meeting". This event was hosted by Minhaj-ul-Quran International (MQI) Malaysia, on the invitation of Mr. Muhammad Umar al Qadri, member of MAC and president MQI Kuala Lumpur, Malaysia.
Ch.M. Jameel Qadri (Ameer of MAC from Korea), Mr. Ali Imran (President of MAC from Japan) ,Mr. Shahzad Ali Bhatti (Korea), Faisal Najeeb (Hong Kong), Khalid Javed (Indonesia), Mr. Umar al Qadri (Malaysia), Tariq Alvi (Malaysia), Allama Muhammad Shakeel Saani (Japan), Ali Solangi (Malaysia), M. Saleem Qadri (Malaysia) M. Hafeez ( Joint Secretary from China) and Sajjad-ul-Aziz Qadri (Malaysia) participated the meeting.
The program began with the recitation of the Holy Quran, by Allama Muhammad Shakeel Saani (Japan) followed by Naat-e-Rasool e Maqbool by Mr. Tariq Alvi (Malaysia), while Mr. Sajjad-ul-Aziz conducted the program as stage secretary and welcomed the MAC leadership, representing MQI, Malaysia.
President MAC Mr. Ali Imran, delivered the keynote address. He congratulated MQI Malaysia, especially Umar al Qadri (MAC member from Malaysia) for inviting MAC to Malaysia and making extra ordinary efforts to hold this well organized and beautifully managed meeting. He introduced all of the MAC members to everyone and explained about their past work for this mission and their current portfolio. He congratulated Ch.M. Jamil Qadri (Ameer of MAC) for his successful tour to Thailand and Chili and appreciated his efforts to expand the MQI work in that countries by appointing MQI coordinator.
He explained the following agenda points of the meetings.
Visit of Shaykh-ul-Islam to Asian Countries in 2017.
Completion of NEC and local bodies in Thailand and Singapore.
Translation of the books of Shaykh-ul-Islam Dr. Muhammad Tahir-ul-Qadri in Asian Languages.
Appointment of Secretary Finance
Establishment of MAC media cell.
Establishment of Executive Council in Malaysia.
Fund collection with MAC Body.
Holding further Strategic Analysis and Planning Meetings of MAC in different Asian countries.
Muhammad Jamil Qadri congratulated all MAC members for this meeting and welcomed all new members of MAC body. He said, Minhaj ul Quran is a great blessing of Allah S.B.T for us in this modern age. MQI have expanded their work in five continents in very short span of time and set up MQI institutions in more than 100 countries. There is no other organization in the world that can meet MQI even those organizations, which are working since last 100 years. It is just because of Shaykh ul Islam, who taught us how to live and survive in the modern age with moderation; also, it is all because of his hard work that thousands of non-Muslims are converting into Islam. He also explained about his recent tour to Thailand.
He proposed that MAC should arrange a conference in Thailand during the occasion of Miraj-un-Nabi (S.A.W) in which MAC members as well as MQI members from nearby countries would participate to make that conference successful and by the end of conference, get some people for main body of MQI Thailand.
Mr. Shahzad Bhatti from Korea then expressed his views and said, although he is new to MQI family but he has amazing passion to work for this blessed mission and he will work and serve this mission in all ways.
Tariq Alvi from Malaysia welcomed all of the MAC members on their arrival to Malaysia. He paid special gratitude to Umar-al-Qadri for his outstanding efforts to make MAC meeting very successful.
Mr. Khalid Javed from Indonesia explained briefly about the MQI work done in Indonesia. He told the house that Shaykh-ul-Islam's Fatwa on Terrorism and Suicide bombing has been translated into Indonesian language and 9000 copies have been published so far, which have been given to all Muslim Leaders, Government officials and to all well-known personalities. He requested for the appointment of a coordinator in Indonesia who can speak Arabic as well as English. He then presented a copy of Fatwa to Mr. Ali Imran president of MAC.
Muhammad Hafeez coordinator of China suggested that during physical meetings, MAC leadership must meet all of the MQI bodies in that country including LECs, NEC and Executive Council to listen and understand the problems on ground levels. He further urged that MAC's WhatsApp groups of all bodies will expedite our work and will make all the activities more transparent. All bodies will have their own WhatsApp groups in which they will discuss their matters to minimize the issues especially financial matters to make it more transparent. MAC will monitor all of the groups on all levels and MAC body will share their suggestions just on if necessary basis.
Umar-al-Qadri said, that it is an honor for him to arrange the meeting for MAC and he would be available to arrange more such activities in future. Other members including Allama Shakeel Sani from Japan, Saleem Qadri from Malaysia, Faisal Najib from HongKong, Ali Solangi, also shared their views.
The appointment of Muhammad Hafeez as Joint secretary MAC & Secretary of media cell and Mr. Faisal Najib as Finance secretary of MAC, was unanimously approved in the meeting.
In the second session, a larger house meeting was conducted with all NEC and LEC bodies of MQI Malaysia. Malaysian Executive Council was formulated and new members were suggested to enhance its working and effectiveness.
Meeting ended with Dua.