Annual Ghaus-e-Azam (RA) Conference held by MQI Nelson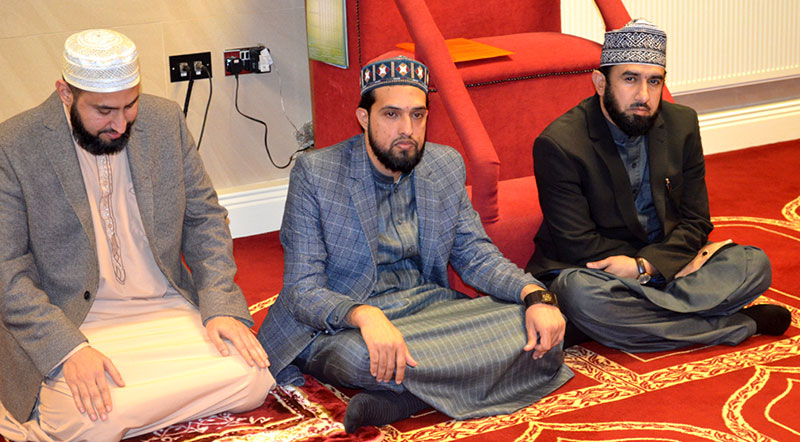 The Annual Ghaus-e-Azam (R.A.) conference was held at Jamia Masjid Minhaj-ul-Quran Nelson on Sunday 22nd January 2017. It was organised by Minhaj-ul-Quran International Nelson and featured prominent local Ulema, Naat Khwaans and invited guests. The main guest speaker was Director of Minhaj-ul-Quran Manchester Shaykh Abdul Sattar Siraj. The mehfil was broadcast live on radio Awaaz FM and included recitation of the Holy Quran and several beautiful Manqabaths in honour of Syedna Ghausal-Azam Sheikh Abdul Qadir Gilani (RA).
Allama Nauman Al-Azhari delivered the first speech of the evening which was in English. He spoke about the origins of Giyarveen Sharif and also about many widely held misconceptions. He said unfortunately many people see Giyarveen Sharif as merely about serving food (langer) but in actual fact we celebrate Giyarveen Sharif to observe the tradition of Ghaus-e-Azam and to deliver Ehsalay Swaab. Alama Saab spoke about the life and achievements of Hazrath Ghaus-e-Azam, he said they studied for 33 years acquiring knowledge in all fields and for the next 40 years they delivered lectures on all topics - some 70,000 people would listen to their lectures at one time. Hazrath Ghaus-e-Azam also achieved the astonishing feat of reciting the Holy Quran every night for 15 years.
Shaykh Abdul Sattar Siraj delivered the night's main speech. He said a person who does not do Zikar of Allah is like the dead. When Allah decides to do favour on someone he gives that person the Noor of Iman so that he may see his bad ways / actions and change for the better. Alama Saab said that unfortunately today knowledge is disappearing, yet in the past a true Peer could simply look at his Mureed and diagnose his problems and failings. The Noor of Ghaus-e-Azam however continues to grow even today and Allah bestowed on them the unique prominence to change the very fate of a person through prayer.
Shaykh Abdul Sattar concluded his speech by reaffirming that every true member of Minhaj-ul-Quran is in fact a direct Mureed of Syedna Ghaus al-Azam.
Langare-Ghausia was served at the end to all attendees.