Greece: Translation of Irfan-ul-Quran in Greek language launched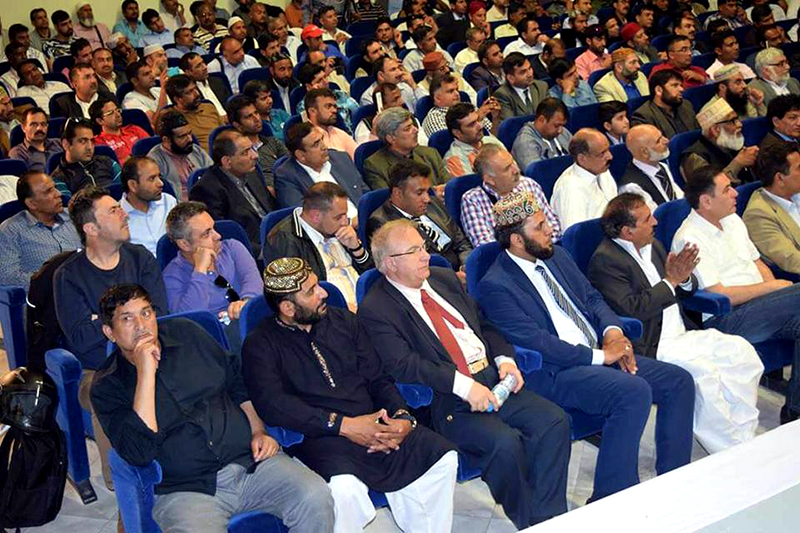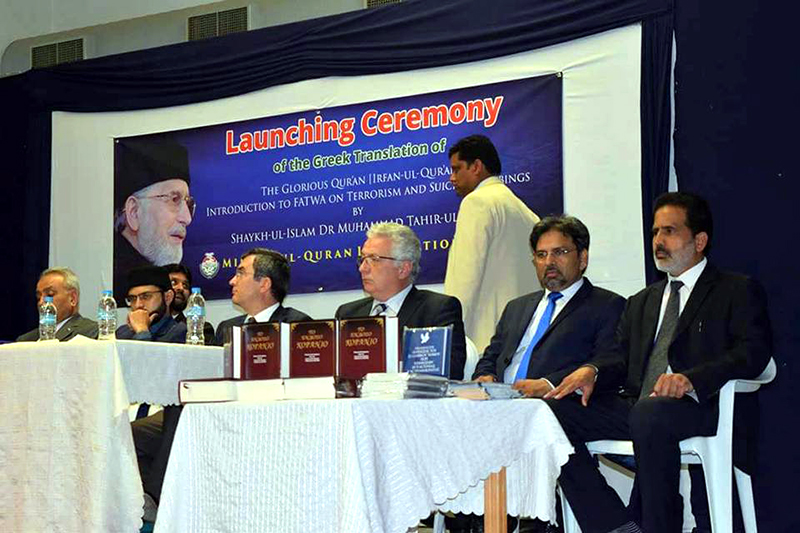 The launching ceremony of Greek translation of both Irfan-ul-Quran and Dr Tahir-ul-Qadir's historic Fatwa against Terrorism & Suicide Bombing was held under the MQI Greece on May 2, 2017 in famous Demous Hall, Athens, Greece.
The Chairman of MQI Supreme Council, Dr. Hassan Mohi-ud-Din Qadri was the special guest at the occasion.
Pakistan Ambassador to Greece, His Excellency Khalid Usman Qaiser was the chief guest whereas the President MQI Europe Muhammad Zill-e-Hassan (Spain), General Secretary Minhaj European Council Faisal Najib (Denmark), President European Council (Zone 3), Muhammad Iqbal Warraich (Italy), General Secretary Minhaj European Council (Zone 3), Umair Hussain Altaf (Australia), the wife of Pakistan Ambassador to Greece, Pakistan women groups and the huge number of women and men across the Greece participated in the ceremony.
The ceremony started with the recitation from the holy Quran. Hafiz Allama Muhammad Nawaz, Director Minhaj-ul-Quran international, had the honour of reciting the verses from the Holy Book. The Naat was recited by Sajjad Hussain Qadri, the President Minhaj Naat Council. Syed Muhammad Jamil performed the duties of the stage secretary.
Chairman Supreme Council, Dr. Hassan Mohi-ud-Din Qadri congratulated the MQI (Greece chapter) on the historic and epic achievement in his address. He noted that the Dr Tahir-ul-Qadri's translation of the Holy Quran by the name of 'Irfan-ul-Quran' was comprehensive from different angles. He said that in order for the people living in different counties and speaking different languages to understand the Holy Quran, Irfan-ul-Quran was being translated in simple and easily understandable diction.
Mr. Let General Elefterious Oikonomou, former Minister of Public Order, Mr. Patrijikis Georgiadis, former Secretary General of the Ministry of Public Order, religious leaders such as V. Rev. Ignatios Stavropoulos and other distinguished guests expressed their thoughts and appreciated the scholarly contributions of Dr Tahir-ul-Qadri in fight against extremism and terrorism.
At the conclusion of the ceremony, Dr. Hassan Mohi-ud-Din Qadri announced that MQI (Greece chapter) would be awarded Gold Medal in honour of their epic and historic achievement of Greek translation. He also administered oath to the newly elected officials of MQI Greece chapter. The Director of the Translator Company and all other Greek guests were given the copies of the Greek translation of Irfan-ul-Quran and Fatwa as gifts.