PAT and MQI Greece protest against ethnic cleansing of Burmese Muslims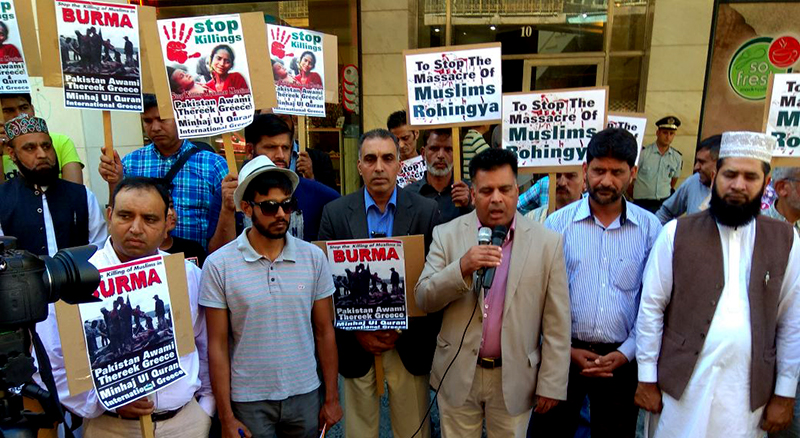 PAT and MQI Greece took out a protest rally in front of Burmese consulate on September 7 against the atrocities being committed against the Burmese Muslims. The people from across the political spectrum participated in the protest rally. Throwing light on the current situation in Burma, the speakers said that the Muslims are being subjected to ethnic cleansing under planning and the criminal silence of the international powers is the proof of this fact. The countries which raise hue and cry even for animal rights have become silent spectators now. Where are the human rights organizations, which are mobilized when even a single murder occurs in Europe or America?
But, regrettably, they seem to have kept oral fast, witnessing the wholesale massacre of the Muslims in Burma with callous indifference. The president Minhaj ul Quran International Greece said that the Muslim rulers should present a united front against the reign of terror unleashed in Burma. He thanked the local police and the Greek Government for their cooperation in connection with the protest rally.
Dr. Abdul Razzaq, the president PAT Greece, said the apathy of the international community vis-a-vis the genocide of the Muslims in Burma is a serious cause of concern for the civilized world. He said the Muslims of Burma are the only community in the world who are not citizens of any country. Even the United States seems to be arthritic to play any role in this regard. The Security Council is tongue-tied. The Nobel laureate and the prime minister of Burma is directly responsible for all this ethnic cleansing. The PAT Greece condemns these brutalities in the strongest terms.
At this occasion, Amir MQI Greece Ghulam Murtaza Qadri, senior vice president Mirza Amjad Jan also expressed their views in Greek. Besides, Nazim Minhaj ul Quran International Greece Muhammad Shahid Butt, ex-president PAT Greece Mudassar Khadim Shoal, President Pakistan community Greece Ch. Shah Nawaz Warriach, president Mahria Nasiria Imtiaz Alam, the president PPP Ch. Shabbir Dhama, ex-president Minhaj-ul-Quran International Greece Javed Iqbal Awan, and Muhammad Shahid Saqi of PTI also spoke on the occasion and condemned the Burmese Government for her atrocities against the Muslim community.
The proceedings of the protest rally were conducted by Qari Mudassar Mustafa. The president Zia-ul-Ummah Foundation Hafiz Muhammad Shahid Ghaffar, Hafiz Muhammad Ilyas Golarvi, Ch Muhammad Khan Karnana, Ch. Mehdi Khan, Nasir Jassoki, anchor person Takbir TV and Mian Waqar Ladian also participated in the rally.
At the conclusion of the rally, memorandum of condemnation was presented to the Burmese embassy by president Minhaj-ul-Quran International Greece Muhammad Alam Ch. Ghulam Murtaza Qadri, Dr.Abdul Razzaq, Muhammad Shahid Butt, Tariq Sharif Awan and Mirza Amjad Jan.