Denmark: PAT's struggle for justice for Model Town martyrs highlighted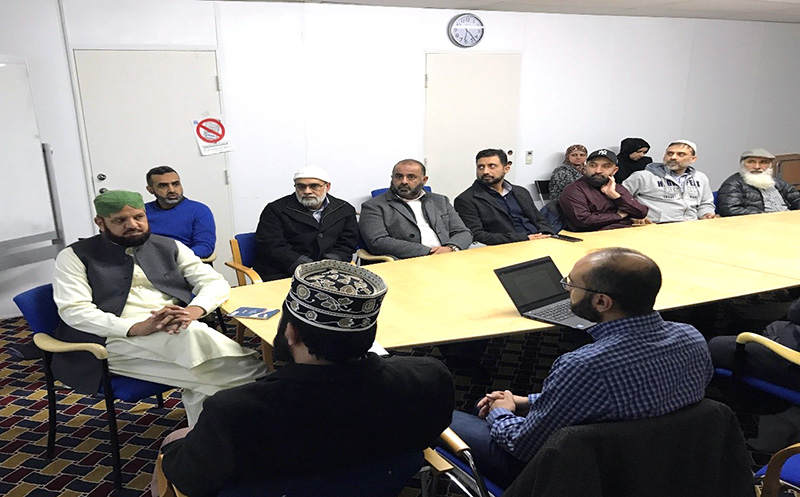 On the 12th of December 2017, a meeting was held for the members and representatives of different forums under MQI DK with Naib Nazim-e-Ala, MQI, Allama Syed Farhat Hussain Shah in MQI DK Headquarters. He is on a European visit, where he will be delivering talks and speeches in Norway, Italy, Germany and Denmark.
In the meeting President of MQI DK, Dr. Urfan Zahoor Ahmed, welcomed all participants and thanked Allama Syed Farhat Hussain Shah upon his participation in the meeting.
President of PAT DK Ghulam Mohiuddin explained the current scenario of PATs struggle for justice for the Model Town martyrs in the aftermath of the order of Lahore High Court to publish the report of the Baqar Najafi Commission.
General Secretary of PAT EU, Muhammad Munir, presented a timeline of the main political events of PAT since the Model Town Massacre in June 2014.
Naib Nazim-e-Ala of MQI, Allama Syed Farhat Hussain Shah addressed the participants with a motivational speech elaborating on the mission and vision of MQI and Shaykh-ul-Islam Dr. Muhammad Tahir-ul-Qadri. He explained that Shaykh-ul-Islam founded MQI and PAT to achieve justice and security in the society, and that Shaykh-ul-Islam has consistently put in tireless efforts to achieve this objective throughout his life.
Allama Farhat Shah said that after the Model Town massacre in June 2014, PAT has peacefully been struggling to get justice via the legal way for the martyrs and their tragedies and the publication of the Baqar Najafi Commission Report on the order of the Lahore High Court has given this peaceful struggle a positive boost as it clearly puts the responsibility of the massacre on the Punjab Government. The struggle for justice is now moving towards the final goal, and it is the responsibility of every member of MQI around the globe to support and contribute towards this cause in every possible way.
The participants of the meeting were positively motivated by the address of Allama Syed Farhat Hussain Shah, and committed to supporting and contributing to the struggle of PAT for justice.
At the end of the meeting Allama Syed Farhat Hussain Shah prayed for justice for the Model Town martyrs.