MQI Bahrain holds a Conference on Hazrat Imam Hussain (AS)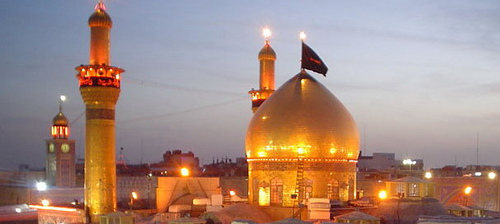 Minhaj-ul-Quran International Bahrain organized "Shahdat-e-Imam Hussain (A.S) conference" on 10th Muharram, 1439 AH (30th September 2017) at residence of Mr. Ashraf Bhinder (Ameer MQI Bahrain) in remembrance of Shahadat e Imam Hussain (A.S) and his companions in Karbala. The program started with recitation of the holy Quran by Mr. Qari Haq Nawaz followed by recitation of Naat Shareef and Manqabat e Ahl e Bayt. Mr. Sajjad Hassan Qadri Mujadidi, Ijaz Ahmed and others recited naat Shareef and Manqabat. Nazim Gosha e Durrod, Mr. Hafiz Shahzeb did comparing of the Mehfil in his nice and impressive manner.
Prominent businessman and nominated director of MQI Bahrain Mr. Fakhr ul Islam Malik was chief guest of the event. He was accompanied by other Bahraini community members. Mr. Sajid Khan who is also a nominated director of MQI (Bahrain) was guest of honour. A large number of people and members of MQI Bahrain from various nationalities and places of Bahrain attended the program.
Mr. Abdul Rahim Chishti (President MQI, Bahrain) addressed the audience and explained great impact of glorious shahadat of Imam Hussain (AS) on the Muslim Ummah as a whole and Islam as a religion. Mr. Ahsan ul Haq recited Ahadeeth related to excellence and honor of Ahl e Bayt from the collection of Ahadeeth by Shaykh-ul-Islam in his book Minhaj us Sawi.
The audience also viewed lecture of Shaykh-ul-Islam Dr. Muhammad Tahir-ul-Qadri elaborating universal message of martyrdom of Imam Hussain (AS) in English and Urdu languages. By viewing the lecture, the participants enlightened their thoughts after listening to the thoughtful and spiritual address of Dr Tahir-ul-Qadri in which he put emphasis on peace, brotherhood, harmony and justice as a result of following the path of Imam Hussain (AS).
Shahadat e Imam e Hussain conference ended with Salam by Mr. Sajjad Hassan (Vice Ameer, MQI Bahrain) and Dua by Mr. Ashraf Bhinder (Ameer, MQI Bahrain) followed by Iftar.