Laylat al-Mi'raj Program at Minhaj-ul-Quran Dallas, Texas USA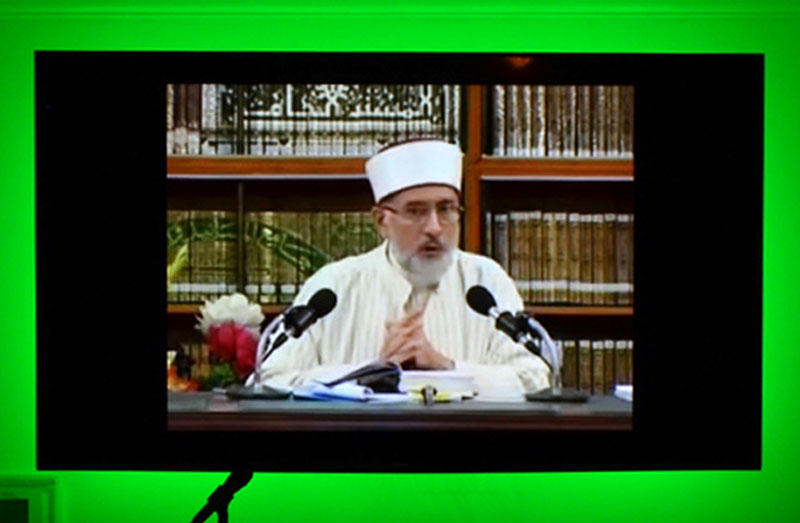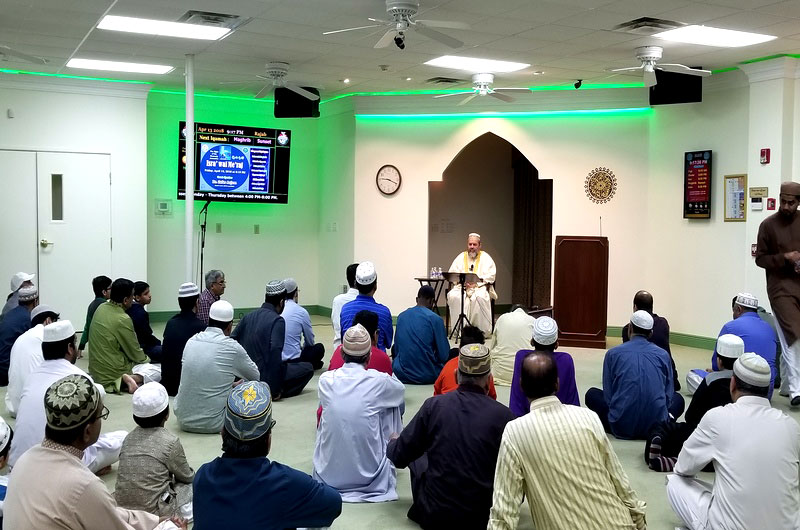 The Heavenly Ascension (Mi'raj) of the Holy Prophet ﷺ was a declaration of the end of darkness and ignorance in the world. The Laylat-al-Mi'raj conferred enlightenment and awareness on the world, something the humanity was not exposed to before. The Holy Prophet ﷺ, through his exalted journey, showed the humanity the excellence of knowledge and how crucial its learning was to unmask the truths of nature. The Holy Prophet ﷺ transformed the entire world into a global village, gave it the concept of unity, humanity and essential values of mercy and love. This is the path which the revered Prophet ﷺ determined for his community to follow, for it led to salvation and universal welfare.
To celebrate this happiest day of the life of the Holy Prophet ﷺ, Minhaj-ul-Quran Dallas organized all-nighter Laylat-al-Mi'raj program on the 27th night of Rajab- Friday, April 13, 2018. The program was divided into different segments.
The formal proceedings of the event started after Maghrib prayers with the recitation of Surah Rahman by young brother Abdullah followed by the heart touching nasheed by brother Malik Akram. The MC of the program was Brother Moiz. A short clip of Shaykh-ul-Islam Dr. Muhammad Tahir-ul-Qadri's lecture explaining the nature of multiple speed of light-Burraq was shown to the audience. Afterward, Imam Dr. Zafar Anjum delivered an inspirational lecture on the significance of Laylat-al-Mi'raj.
Shaykh-ul-Islam's book on Falsafa-e-Mi'raj was also introduced to the audience. Salam upon the Holy Prophet ﷺ was offered after the speech by brothers Maamoon and Malik Akram. The books written by Shaykh-ul-Islam Dr. Muhammad Tahir-ul-Qadri were placed for sale, and free cd on Lailat-al-Meraj was also available for the attendees. During the program, babysitting arrangement was also available.
After Isha prayer, dinner was served to the attendees followed by Salat al-Tasbeeh led by Brother Haneef. The night vigil continued after dinner. Brother Sameer performed Qirat followed by a brief speech delivered by brother Mioz. Next was Qiyam al-Layl which was led by Brother Moiz.
In this way, this blessed program concluded with Halaqa-e-Dhikr at 2:40 am. Then the attendees were also given the opportunity to offer secluded worship. After that, the attendees went to IHOP restaurant for Suhoor. The first part of the formal program until Salam and dua was also telecast live on @minhajdallas facebook page.