USA: Dr Qadri's Fatwa against Terrorism presented to Congressman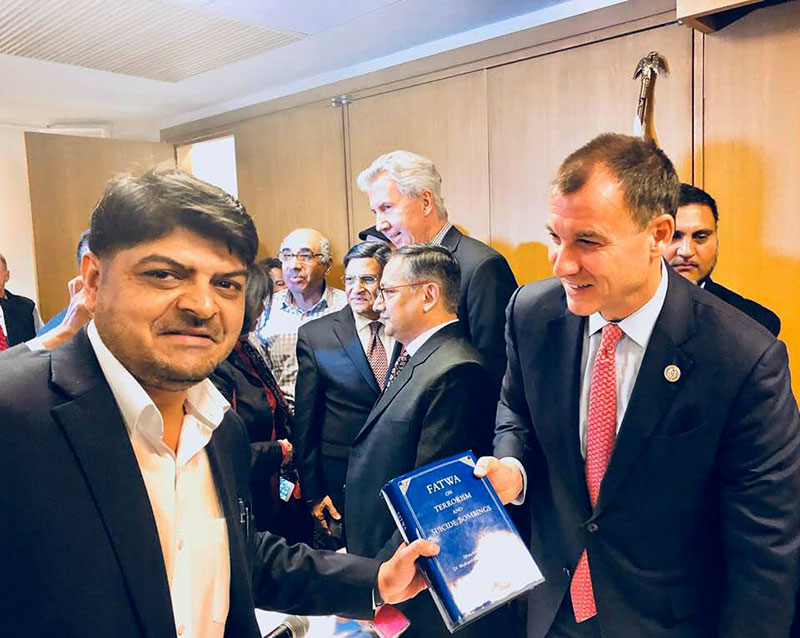 Rizwan Siddique presenting Fatwa against Terrorism of Dr Muhammad Tahir-ul-Qadri to Congressman Mr. Thomas R. Suozzi
The anxious concern of a Muslim living in non-Muslim world is far more rooted into the identity crisis than a life in a native and closely knit Muslim land. Living in USA, I see that in the midst of the confusion of civilizations, spiritual appetites, and anarchic tendencies, Islamic paradigm comes to the plain as the most accessible, tolerant and pluralistic incarnation of religion. It stands as a uniquely valuable bridge between east and west at this moment of crisis. But unfortunately this benign version finds its fundamentalist, intolerant, and militant counterpart staring it in the face.
In the contemporary milieu of postmodernism and religious pluralism, Islam stands out as a religion with a strong self-identity and an ideological profile that sits uncomfortably with the post-modern age. It presents the contemporary Western and American world with something of a problem. Dr. Tahir ul Qadri's Fatwa on anti-terrorism is uniquely bridging the gaps between radically different ideological versions i.e. peaceful, benign, apolitical and spiritual one in opposition to the political, confrontational and fanatic version which is getting into the entrails of the world today.
To promote global peace and harmony is the immediate need of the day, especially when it comes to the binarity between factual and fabricated image of Islam. Dr. Qadri's Fatwa is a benchmark with the most original and authentic representation of Islamic standpoint on academic and political levels. Dr. Qadri's message of love and peace is all about irrefutable truths regarding Islamic doctrine which guarantees the pluralistic and peaceful life of a human being.
In USA, the Chairman of American Pakistani Political Affairs Committee (APPAC), Dr. Ijaz Ahmad, an acclaimed cardiologist, philanthropist and political activist has been working wonders by presenting more inclusive and harmonious image of Muslims in general and Pakistan in particular. He has transformed the face of social and political activism in USA by amplifying the marginalized Muslim voice and bringing it to the center of political scenario.
On the 2nd of May, 2018 APPAC USA conducted a workshop on the topic "Afghanistan-Pakistan development strategy" here in New York. , The vice president MQI Nassau County New York chapter, Muhammad Rizwan Siddique presented Fatwa on Terrorism and Suicide Bombings, written by Shaykh-ul-Islam Dr Muhammad Tahir-ul-Qadri to Congressman Mr. Thomas R. Suozzi.
Mr. Suozzi is an American Democratic politician, CPA and Attorney who is the U.S. Representative for New York's 3rd district. He was the county executive of Nassau County, New York, Rep. Suozzi is also a member of the House Foreign Affairs Committee.He serves on the Subcommittee on Middle East and North Africa as well as the Subcommittee on Africa, Global Health, Global Human Rights and International Organizations.
We hope this book will reveal to him a true picture of Islam that this great faith has nothing to do with terrorism and extremism. Islam is the most peaceful religion. It will eliminate the ambiguity and confusion about Islam and he may bring this landmark book to the level of curriculum in academia.