Eid-ul-Fitr celebrated at MQI Community Centre Dallas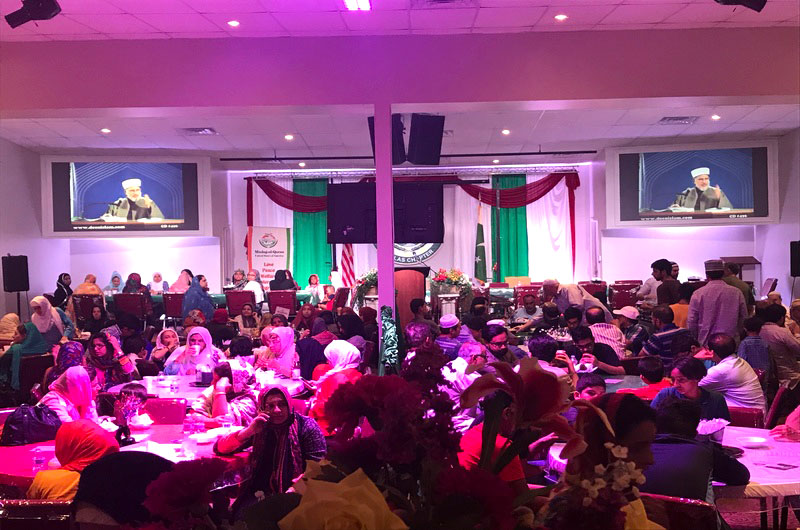 The third Ashurah of Ramadan started with daily Qiyam al-Layl, brief speeches, Dhikr, and Salam upon the Holy Prophet ﷺ at Jame' Hasan al-Basri Minhaj-ul-Quran Community Center Dallas in the company of Mutakifeen from the 21st night of Ramadan, and ended with collective dua and moon sighting on the 29th of Ramadan.
In addition to daily Iftar and dinner, during the last ten days of Ramadan, Itikaf attendees observed Nawafils, special long prayers, and Salat-e-Tasbeeh to obtain salvation from the fire of hell and to invoke Almighty Allah's mercy. Many young Huffaz and scholars including Imam Aseel Khan, Imam Zia, and Imam Zafar Anjum were invited to lead Qiyam al-Layl and short speeches on the significance of Qiyam, the importance of Lailat al-Qadr, and on the love of the Holy Prophet ﷺ.
Special arrangements were also made for Khatm-ul-Quran on 25th night of Ramadan, when Allama Afzal Qadri was invited from Houston for a special dua and fund-raising speech. On this occasion, Allama Afzal Qadri's inspiring speech brought many people to tears for the love of Almighty Allah.
Minhaj-ul-Quran Women League also arranged volunteers to offer Mehndi at the center to the sisters of the community to raise funds for people in need. Sweets were distributed to all the Mutakifeen after their successful completion of Itikaf. The day of Eid al-Fitr at the center was celebrated on Friday, June 15, 2018, with collective 'takbeerat' by many brothers from the community, followed by the Eid prayer lead by Imam Dr. Zafar Anjum.
Dr. Anjum, after delivering the Eid khutbah, made collective dua for all the Muslim Ummah and for the longevity of Shaykh-ul-Islam Dr. Muhammad Tahir-ul-Qadri. All the students of Sunday School were given Eidi, and gifts were distributed to all the volunteers. In this way, Eid al-Fitr was concluded at Minhaj-ul-Quran Community Center offering hot breakfast including halwa puri, chana, and donuts at Uways al-Qarani auditorium for all the attendees of Eid al-Fitr.