Pakistan community is ambassador of Islam & Pakistan: Dr Hussain Mohi-ud-Din Qadri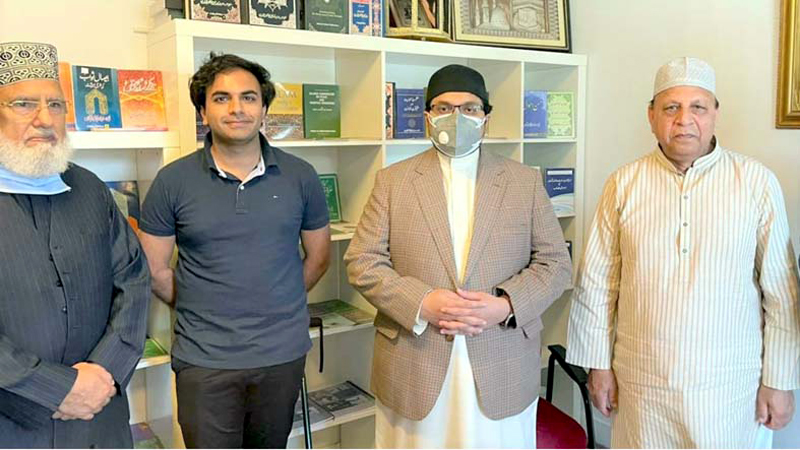 Dr Hussain Mohi-ud-Din Qadri, President Minhaj-ul-Quran International (MQI), has reached Holland on a brief visit. Pakistan community hosted a reception in his honour in the Minhaj-ul-Quran Islamic Centre Amsterdam.
Addressing the reception, Dr Hussain Mohi-ud-Din Qadri said that overseas Pakistanis are ambassador of Islam and Pakistan and thus they face twin challenges and responsibilities. They not only have to work hard to make a living for themselves and extended families but also take care that their actions do not bring a bad name to their country and religion. He said that Pakistani community is our pride and valuable asset. He said that whenever the country faces any difficult time, it is these Pakistanis that are at the forefront to serve their motherland in whatever capacity they can.
Dr Hussain Mohi-ud-Din Qadri further said that MQI is the only religious, educational and welfare organization whose infrastructure and presence is spread all over the world including Pakistan. He said that those associated with MQI are always driven to serve their communities and be positive contributor to their society. He said that Shaykh-ul-Islam Dr Muhammad Tahir-ul-Qadri has set up educational institutions that are serving the lower and middle classes of the country. He said that inexpensive education up to the level of M. Phil and PhD is being imparted in these institutions.
Dr Hussain Mohi-ud-Din Qadri said that Minhaj University Lahore is the fastest growing university in the private sector. He said that reason for the massive strides that MUL is making are our commitment to education as an way of service of humanity. He said that it is unique characteristic of MUL that it is imparting education in interfaith studies including those of Sikh and Hindu religions. He said that it is again the first university in the private sector in which professors belonging to the same religion are teaching the courses of their respective religions.
President MQI said that Orphan Care Home was established for the education and upbringing of children who were orphaned in the earthquake that devastated AJK in 2005. He further said that the government of Pakistan gave the status of a board to MQI by the name of Nizam-ul-Madaris Pakistan in recognition of its services in the education sector. He said that Nizam-ul-Madaris will introduce new scholarly, intellectual and moral values in the religious seminaries. He told the audience that hundreds of Madaris have got accreditation with Nizam-ul-Madaris in a short span of time.
Dr Hussain Mohi-ud-Din Qadri stated that a great educational institution Idara al-Azamiyah is being set up that will impart education of Islamic and contemporary sciences. He said that there is a dire need to establish educational institutions in line with the modern-day requirements to rid society of the scourge of extremism and radicalism.
Anwar Saqib, president of the Holland Business Forum, Chaudhry Muhammad Ikram, Aftab Butt, Mian Muhammad Saeed, Dr Muhammad Younis, senior journalist Chaudhry Muhammad Safdar, Muhammad Shabbir Jan, and Imtiaz Butt also held a meeting with the President of MQI. Allama Hafiz Nazir Ahmad Qadri, Hafiz Shahid Rasool and Raja Jamshed welcomed Dr Hussain Mohi-ud-Din Qadri on his arrival in the reception.