DVDs sent to over 450 UK government & EU officials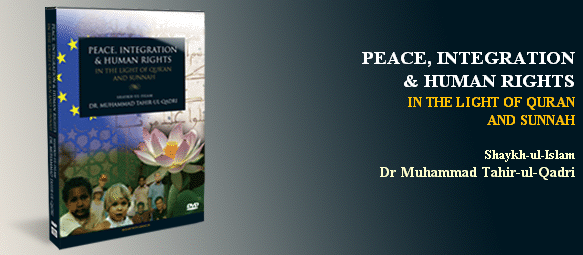 "Islam is misrepresented by the East and misunderstood by the West" (Excerpt)
A new DVD lecture has been dispatched with the name of "Peace, Integration and Human Rights in the Light of the Quran & Sunnah". This lecture is from the one day symposium that recently took place at Sheridan Suite, Manchester. This DVD has been sent to over 450 government officials including MPs, Lords and Members of European Parliament. As well as this the DVD has be presented to the British government ministries and departments, and various media sources. The DVD endeavours to eradicate misconceptions about Islam amongst the influential people and policy makers. As well as this MYL UK aims to play a significant part in making future attempts to cause controversy about Islam impotent.
In this lecture Shaykh-ul-Islam Dr. Muhammad Tahir ul Qadri stresses that the message of Islam is peace. He spoke about how the Muslims in the West need to integrate into society.  Whilst doing this Shaykh-ul-Islam Dr. Tahir ul Qadri presented a unique model of integration. He gave powerful messages of condemning all acts of terrorism and emphasised the human rights which Islam gave to the people. In addition he stressed the women's rights which the Holy Prophet Muhammad (Peace and Salutations be Upon Him) ordered. Shaykh-ul-Islam referring to the Islamic constitutional history said that women were held in very high official positions and were sent many times as viceroys and ambassadors to foreign nations.
This DVD has been produced and presented professionally to a high standard. In relation to this the MYL UK Marketing Secretary said "The Muslim Youth League UK believes in the concept of presenting the faith (deen) with excellence (ihsan) and thus decided to launch its first product to create benchmarks for further works". He further said that "If the people of the world (dunya) work so hard to present the materialistic world to attract people to this world, then we as those working following the teachings and the Prophetic Way (Sunnah & Hadith) of the Holy Prophet Muhammad (P.B.U.H.) should as minimum match them".
MYL UK in launching its first initiative in eradicating extremism and promoting harmony prays for the success of this project and looks forward to the activities it is planning for the coming short and long term. For details on our existing and upcoming projects please contact:
Brothers – Tahseen Khalid: president@muslimyouth.org.uk
Sisters – Tanzeem Begum: president-s@muslimyouth.org.uk