Minhaj-ul-Quran International to host Gaza Conference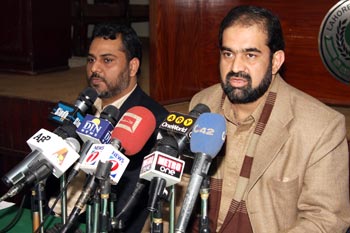 Minhaj-ul-Quran International has decided to organize 'Ghaza Conference' for rehabilitation of the affected Palestinians and reconstruction of Ghaza on January 25 (Sunday). Palestinian ambassador to Pakistan, Mr. Jaser Ahmad, will be the chief guest at the occasion. Secretary General of Minhaj-ul-Quran International, Dr Raheeq Ahmad Abbasi, declared this in a press conference in the Lahore Press Club. Dr Abbasi said that keeping in view the magnitude of destruction wrought in Ghaza by the Israeli troops, it was not possible for a single organization to successfully undertake the challenge of rehabilitation on its own. Thus there was dire need to make collective and coordinated efforts for greater output in this regard.
He said that the Ghaza Conference had been convened to create awareness among masses and formulate national course of action. He appealed to all political, religious, traders' and welfare organizations to participate in the Ghaza Conference and extend their helping hand for the displaced Palestinian Muslims. Dr Abbasi said that leaders of all religious and political parties, human rights organizations, trade unions, lawyers, NGOs and prominent people belonging to different walks of life were being invited for participation in the conference. He said Minhaj-ul-Quran International and Minhaj Welfare Foundation had already established a relief fund with an initial amount of Rs. 10 million, whereas the domestic and foreign sub-branches of MQI and MWF were busy collecting more funds for the Palestinian brethren.