Reception held in the honour of Sheikh Zahid Fayyaz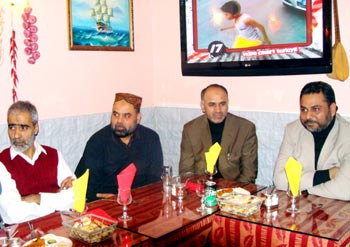 Reported by: Rao Khalil Ahmad
Minhaj-ul-Quran International France hosted a reception in the honour of Naib Nazim-e-Ala Sheikh Zahid Fayyaz on January 2, 2009 at the conclusion of his visit of France. The reception was attended by a large number of people belonging to different walks of life including the members of present and former National Executive Council.
President MQI France Abdul Jabbar Butt thanked all guests and Director MQI France Allama Iqbal Azam held forth on the promotion of mutual brotherhood and appreciated the good working relationship of the Executive Council. PAT President Tariq Chaudhry said MQI France was a gift for all of us. Former President Haji Muhammad Aslam said that the presence of dissent was necessary for growth of every organization.
Patron of Minhaj European Council, Haji Gulzar Ahmad applauded the new administration for its role in creating good atmosphere. President Majlis-e-Shura Chaudhry Muhammad Saeed said that MQI was a combination of many flowers where every flower had different fragrance.
Nazim MQI France Rana Faisal Ali Qadri made all the arrangements for this reception. Malik Shabbir Awan, Sohail Butt and Maher Muhammad Arshad also spoke at the occasion. The participants also expressed the need to work on the media coverage of the MQI events. Hafiz Iqbal Azam led the special Dua for the long life of Shaykh-ul-Islam Dr Muhammad Tahir-ul-Qadri, betterment of the Muslim Umma and peace and harmony in the world.