Defibrillator Training Arranged at MQI London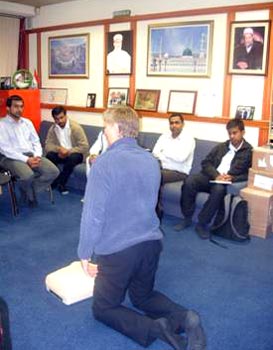 Heart disease (including heart attacks) was the leading cause of death for both sexes in England and Wales in 2005, accounting for one in five male deaths and around one in six female, according to a report published by the Office for National Statistics (ONS).
Source www.statistics.gov.uk/pdfdir/hsq0506.pdf.
Heart Attacks can strike at any time or place and heart attacks can strike even the young and seemingly fit young persons.
Sporty youngsters stress their heart the most. If they have an underlying cardiac abnormality they are more likely to be at risk. This is because the heart is the body's engine and like the engine of a high performance car, it is more vulnerable if it has to work extra hard.
Sport does not cause a heart attack but it can cause a young person to die suddenly by exacerbating an underlying problem that already exists.
Portable Life Saving Defibrillators are now becoming common place in most public places from Railway Stations, Airports, Shopping Centres to Museums, Stadiums, Venues as well as Commercial buildings and business premises and even private homes of vulnerable persons and are an essential piece of life saving equipment.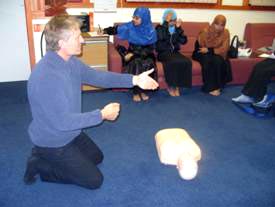 With our emergency services being stretched and traffic conditions making it virtually impossible for Ambulances and Para Medics to reach the scene of a Heart attack Victim within 15 minutes let alone the crucial 8 minutes of a heart attack it makes sense for the strategic placement of portable Defibrillators in places where public gather and to offer immediate response to saving a life whether it be an Adult or a Child.
AED Defibrillators
When a cardiac arrest occurs, the fact is that only half of the victims will need a shock. The other half require effective CPR. You deserve an AED that helps you all the time, one that can actually see when you are doing CPR and provide help.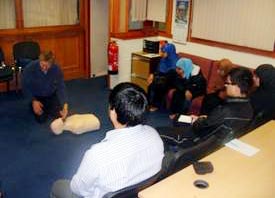 All AED Defibrillators will deliver commands and an electric shock to your casualty but will your Defibrillator help you perform effective CPR?
So considering the importance of having such devices, it is a good life saving skill to pick up. Minhaj-ul-Qur'an International organised just such training in partnership with the NHS on 21st July 09. The training included usage of a Defibrillator, CPR (which forms part of basic 1st Aid) and general background knowledge to cardiac arrest. Members of the Minhaj executives, Womens League, Youth League Brothers and Sister participated in the training.
Medical information taken from: http://www.heart-defibrillators.co.uk