International Committee of Red Cross Team's Visit to Minhaj ul Quran Secretariat

A four ember team of the ICRC visited Minhaj Ul Quran secretariat on December 8, 2009. The following were the team members:-
Mr. Andrew Barles Smith, Special Advisor to the head of ICRC delegation to Pakistan.
Ms. Laurence
Ms. Kathia
Mr. Salah ud Din, Project Director

The ICRC team dwelt on the functioning of ICRC as a neutral, independent humanitarian organization with a mandate to protect and assist victims of armed conflicts and to promote International Humanitarian Law ( IHL). They elucidated on the functioning of ICRC in different conflict zones and gave a briefing on their activities in Pakistan and Afghanistan.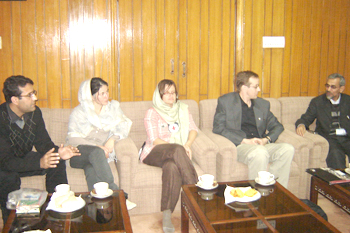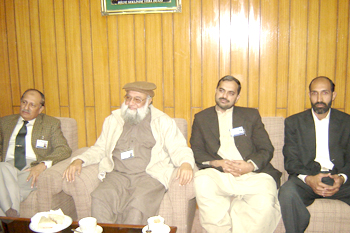 The Team was received by Mr. G. M. Malik, Director Foreign Affairs and was conducted through a visit of different departments of the secretariat. Later the team met the senior management of the Tahreek and was briefed by Brig (Retd) Iqbal Ahmed, on the organizational structure and activities of the Tahreek with special emphasis on the Welfare activities executed by the Minhaj Welfare Foundation. The ICRC Team found commonality in the working of the two organizations and showed a keen interest to expand and enhance cooperation in these areas .
The team left expressing their appreciation and eulogizing the efforts and work of Tahreek Minhaj ul Quran in emancipating the human suffering and hardship under the Dynamic leadership of Shaykh ul Islam Dr. Muhammad Tahir ul Qadri.