Shaykh-ul-Islam addresses American Muslim Council on 'Islam & Peace'

American Muslim Council, in coordination with Minhaj-ul-Quran International North America (Houston Chapter), organized a dinner in honour of Shaykh-ul-Islam Dr. Muhammad Tahir-ul-Qadri, who is currently on tour of the USA. The Event was organized at Hilton Hotel in Southwest area of Houston, the largest city in the State of Texas, and the fourth largest city in the United States.

The leaders of Christian, Jewish, Hindu, Bhudda communities and other religions also attended the event along with hundreds of Muslims. Mr. Shahid Ali Sunni, founder and chairman of American Muslim Council, welcomed all the guests and thanked Shaykh-ul-Islam for attending the event. Shaykh-ul-Islam delivered a very comprehensive speech on the topic of "Islam and Peace". He said that those perpetrating terrorism in name of religion were the worst enemies of Islam and had nothing to do with our great religion. Such elements were bent on bringing Islam into disrepute through their misguided actions. He said that Islamic teachings and injunctions clearly denounced the perpetrators of doom and gloom. There is a need to expose such elements through courageous stands.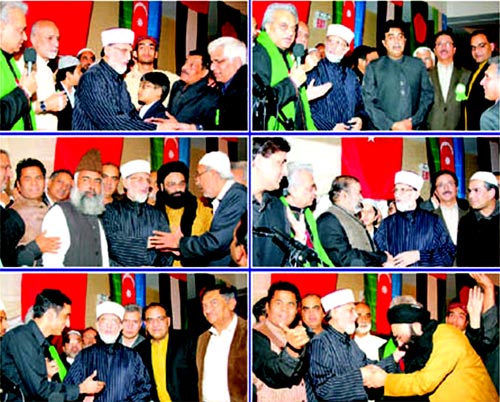 Dr Muhammad Tahir-ul-Qadri said that he had passed a religious edict declaring such people infidels in the light of teachings of the Holy Quran, Hadith and Jurisprudence. He said that this edict consisted of 600 pages and was now under the process of publication, which would be translated in the leading languages of the world. Shaykh-ul-Islam emphasized the need of fostering dialogue and engagement among different religions to foil all conspiracies aimed at maligning all divine religious.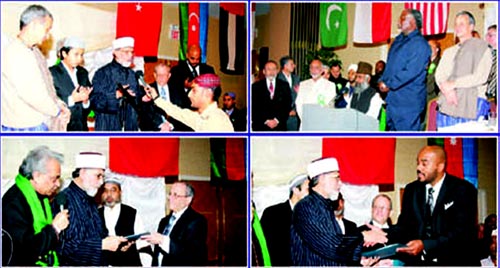 Leaders of other religions appreciated Shaykh-ul-Islam's contributions, efforts for promotion of peace, interfaith harmony and dialogue among civilizations, and further urged that his message should be spread to other people in the community so that they should understand the true picture of Islam.
Selected clips from Shaykh-ul-Islam's videos were played on a big screen in the hall. Attendees kept on watching the clips till Shaykh-ul-Islam arrived.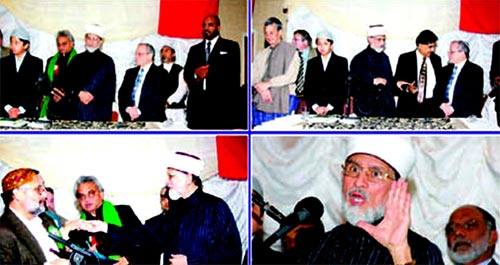 At the end of the event, joint salat-o-salam was offered on Prophet Muhammad (PBUH) by all the participants including non-Muslim leaders. The Event was broadcast live on the internet and was watched by many people worldwide.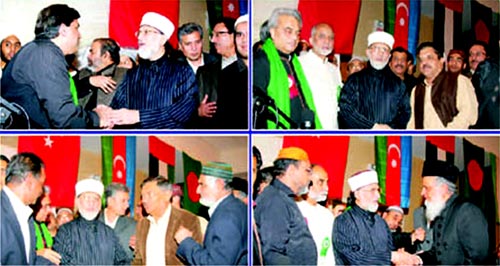 MQI-NA (Houston Chapter) arranged special folders as gifts for all the participants who attended the event. Folders contained profile of Shaykh-ul-Islam, introduction of Minhaj-ul-Quran, DVDs and audio CDs of Shaykh-ul-Islam's lectures on selected topics, and membership forms of MQI-NA. Exhibition of Shaykh-ul-Islam's books and DVDs was also part of the event and it was attended by many participants. Everyone showed a lot of interest in Shaykh-ul-Islam's books and DVDs.

In addition to above event, two other events took place in Houston at the houses of brothers Naeem and brother Zafar Iqbal. Shaykh-ul-Islam met the participants and gave answers to the questions asked by the participants.