Hussain Mohi-ud-Din Qadri President Federal Council MQI visits Norway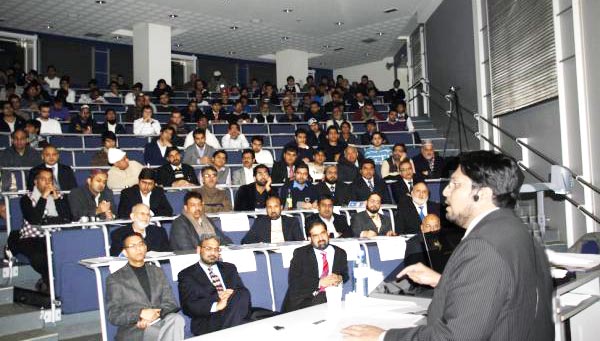 Sahibzada Hussain Mohi-ud-Din Qadri, the venerable son of Shaykh-ul-Islam Dr Muhammad Tahir-ul-Qadri, President Federal Council Minhaj-ul-Quran International and Dr Raheeq Ahmad Abbasi, Secretary General MQI visited Norway on 17 January 2010. Sahibzada Hussain was accorded warm welcome at Doroper University Oslo where he arrived to participate in a Seminar. The MQI Norway had arranged a grand reception on the occasion. All the office holders of MQI Norway were present on the occasion including Haji Nisar Pervez, Faiz Alam Qadri, Iftikhar Mahmud, Allama Israr Ahmad, Khateeb Muslim Center Feurest, Allama Sadaqat Ali Qadri, Amir-e-Tehreek MQI Oslo, Aqeel Qadr, Shakeel Mushtaq, Lala Bashir, Ch. Mushtaq Mian Aslam, Afzal Ansari, Zafar Sayyal, Salma Zafar, Rafia Rauf, Ijaz Waraich, Muhammad Asghar, Atif Rauf, Wasif Majeed, Sa'd Bashir and others.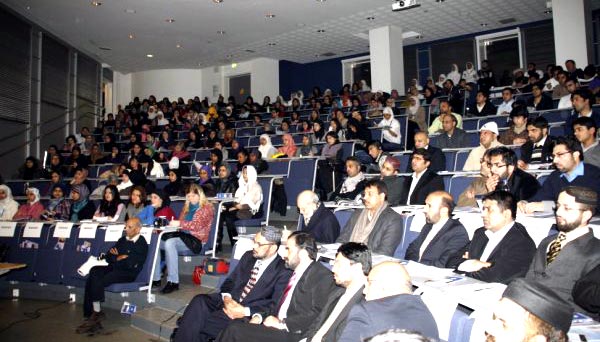 During his visit to Norway Sahibzada Hussain Mohi-ud-Din was introduced to all the members of all forums of MQI. On the occasion, he especially spoke on mutual love and threw light on various connotations and denotations of love and urged to develop a relation of love and obedience with Shaykh-ul-Islam Dr Muhammad Tahir-ul-Qadri. The Da'wa work needs to be promoted through Halqa-e-Durood and CDs, he emphasized. He particularly exhorted to live with love and affection and learn to forgive one another.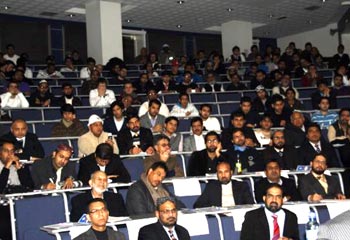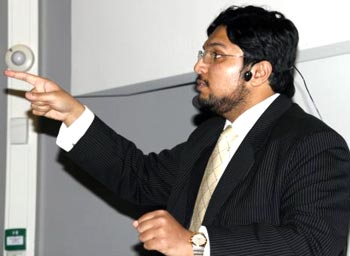 The Concept of Peace in Islam — Seminar held in Oslo University
The Minhaj Youth League International Norway arranged a Seminar in Oslo University Norway on the Concept of Peace in Islam, the women rights and the rights of minorities in Islam. Sahibzada Hussain Mohi-ud-Din Qadri was the Chief Guest. The Seminar was also addressed by Deputy Speaker Norway Parliament Ch Akhtar and Secretary General MQI Dr Raheeq Ahmed Abbasi. The programme went underway with the recitation of the Holy Quran performed by Sa'adat Sa'd Qureshi. The Stage Secretary Mehtab Afsar extended warm welcome to the guests and presented their detailed introduction. Dr Raheeq Ahmed Abbasi presented a brief introduction to Shaykh-ul-Islam dr Muhammad Tahir-ul-Qadri. Addressing the Seminar, Chaudhary Akhtar, Deputy Speaker Norway Parliament strongly condemned the Cartoons denigrating the veneration of the Holy Prophet.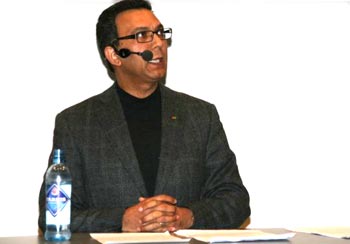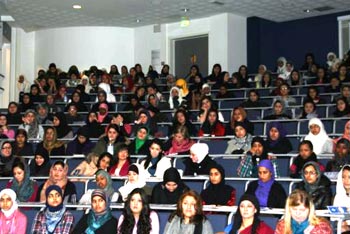 Sahibzada Hussain delivered a thought provoking address on Islam's concept of peace. He termed it as obligatory to present the true face of Islam to the world. It is our basic responsibility to assure the people of the world that Islam is a religion of peace and mercy. There are three basic elements of Islam: Iman, Islam and Ihsan. The first one Iman takes its root from aman—peace. The origin of Islam lies in salama which means security, while Ihsan stems from husn denoting beauty. It proves that Islam means providing peace, security and beauty to others. The massacre of the innocent people, terrorism and violence is, therefore, contrary to Islam. The philosophy of extremism and terrorism is in direct conflict with the Islam's philosophy of peace and security. Islam aims at eliminating the hardships of people instead of making their lives miserable. Destroying, schools and keeping girls from attending schools is detrimental to the teachings of Islam. Islam teaches honouring social values of Islam, the leaders of all the religions, their festivals and traditions. Delivering his first sermon after migrating to Madina, the Holy Prophet 9blessings and peace be upon him) exhorted to fear Allah, prepare for the Day of Judgment, treat one another nicely and adopt good manners. He urged to be generous and spend in the way of Allah and impart education to the children. It were not Muslims alone living in Madina; Christians and |Jews too inhabited there. Islam ordains to treat all with equity and equality.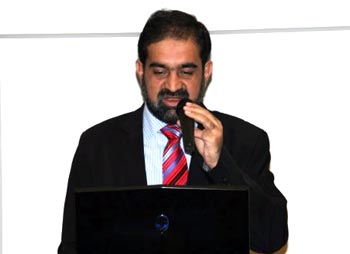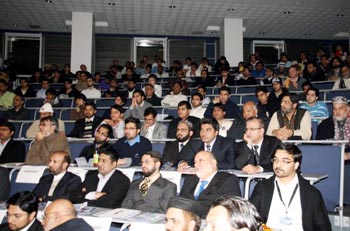 Explaining the human rights in Islam Sahibzada Hussain said that Islam granted women rights fourteen centuries ago; it raised their status in society and made them member parliament. It sent them as ambassadors to other countries, appointed them as state secretaries and arranged for them free education. The Muslims and non-Muslims enjoy equal rights in Islam. No Muslim can wrong any non-Muslim. The Holy Prophet said, 'the one who murders a human, murders whole of humanity.' It is not about a Muslim; it is about a human. The impression which is generally publicized that Islam spread by sword is wrong and misleading. History bears testimony that the Muslims never launched any offensive against an enemy; they always fought defensive wars to guard their frontiers. So what is needed is that we introduce people to what Islam truly is. We need to educate them that terrorism and extremism are no solutions to our problems. Therefore, learn co-existence, tolerance and moderation; rather life with love and affection and promote harmony and brotherhood. Shaykh-ul-Islam Dr Tahir-ul-Qadri has been spreading the same ideology of love and brotherhood, tolerance, moderation and peaceful co-existence right from the beginning. The MQI has marched on along the same route to the destination of peace and prosperity for humanity large. Respect one another and ensure promotion of human dignity is our program and message too. We are treading this path for last 30 years.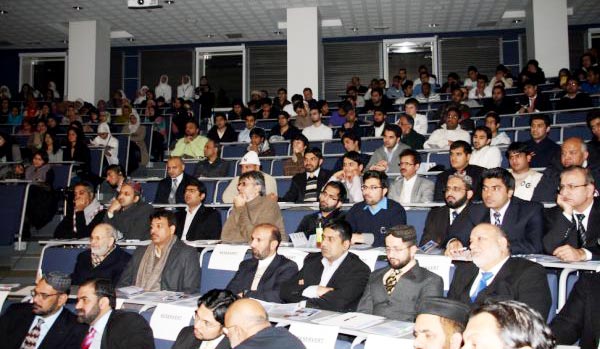 It was followed by a question and answer session. Sahibzada Hussain Mohi-ud-Din effectively replied all queries and when he walked out of the hall the audience rose from their seats and appreciated his speech. A large number of Muslim and non-Muslim students participated in the seminar. The Youth Leagues from Italy, Holland and England were also present on the occasion.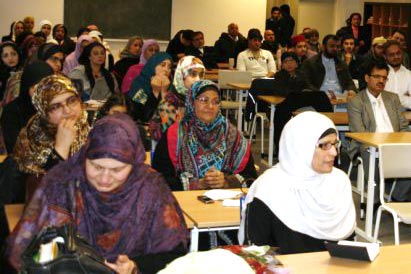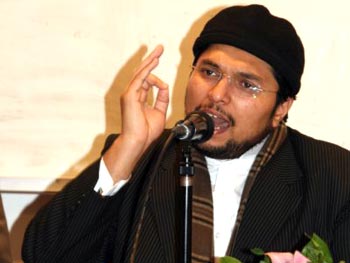 President Youth League Oslo presented bouquet to Sahibzada Hussain Mohi-ud-Din and thanked the guests to attend the seminar.
Later, Sahibzada Hussain Mohi-ud-Din met Vice President Amim Shaukat and condoled over the death of his sister and expressed his sympathy and grief over her sad demise. He prayed for the emancipation of the deceased. Dr Raheeq Abbasi and other Central Leaders of MQI were also present on the occasion.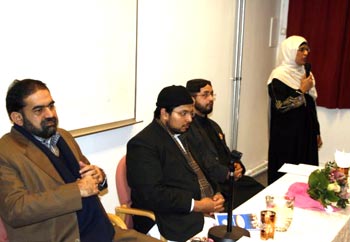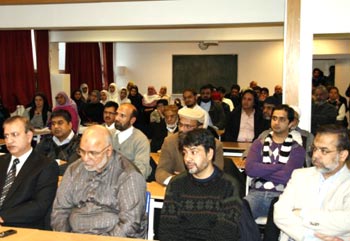 A dinner was arranged in the honour of Sahibzada Hussain Mohi-ud-Din Qadri in which all the members of various forums of MQI participated. Shaykh-ul-Islam Dr Tahir-ul-Qadri addressed the participants on telephone and extended his felicitations on the successful seminar arranged by the Youth League Oslo Norway. He prayed for their success and prosperity.