Day 1: International Conference on Social Responsibility and World Religions | Minhaj University Lahore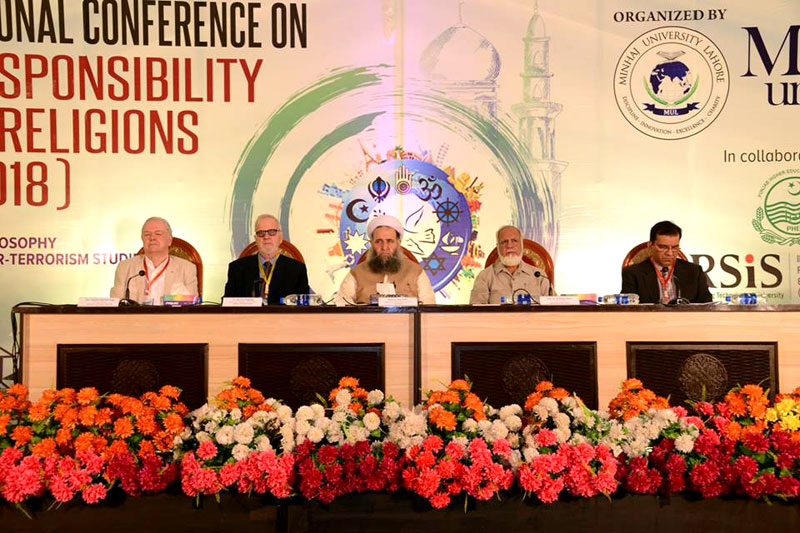 Addressing the inaugural session of a two-day International Conference on Social Responsibility and World Religions held as a result of collaboration between the Punjab Higher Education Commission and Minhaj University Lahore, Federal Minister for Religious Affairs Noor-ul-Haq Qadri said that the government fully supports the Conference's agenda of interfaith moderation and dialogue and is endeavoring to promote these cherished values in the country. He lauded Minhaj University for arranging the Conference, stating that it fulfilled the national responsibility by initiating the dialogue. He said that we have to make sure that our children remain safe from terrorism and extremism and know the value of the brotherhood. He said that Islam means peace, adding that Pakistan was created to live till the Day of Judgment and those who looted this country will meet their fate. He said that we appreciate the role of Dr Tahir-ul-Qadri, the MQI and the educational institutions set up by him for promoting peace and light of knowledge.
Deputy Chairman of Minhaj University Dr Hassan Mohi-ud-Din Qadri welcomed the Federal Minister for Religious Affairs and distinguished scholars and intellectuals Australia, Nigeria, Sri Lanka, Thailand and India. He said that it is the second time that the Minhaj University Lahore has been honoured to host an international conference aimed at promoting global brotherhood and understanding. He said that the MUL is playing the role of a bridge with regard to fostering dialogue between scholars and intellectuals.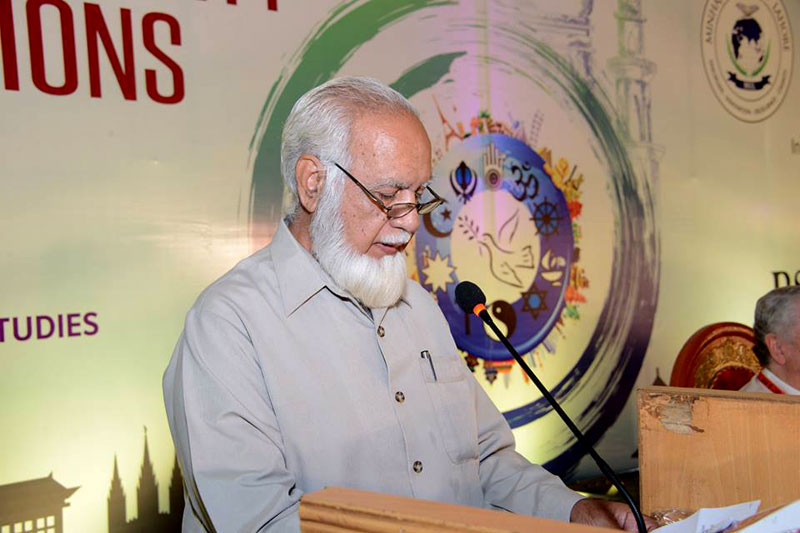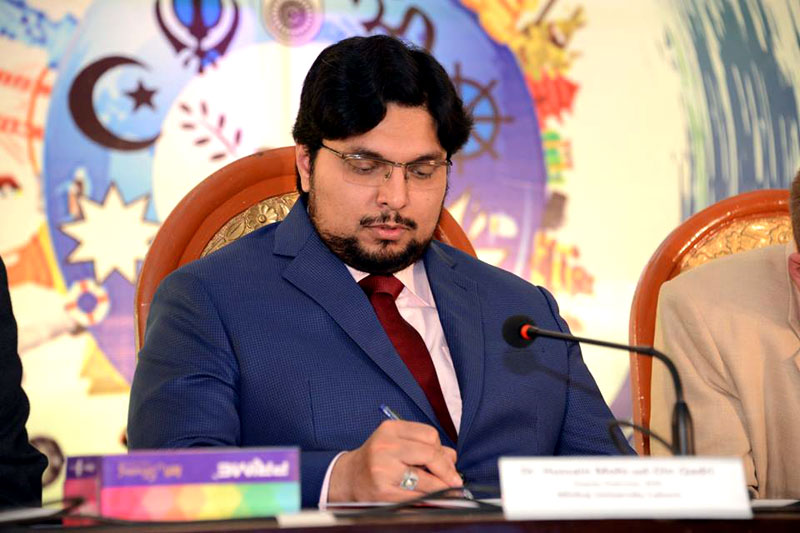 Prof. Dr. Muhammad Aslam Ghauri, Vice Chancellor of MUL, while giving introductory talk, stated that the purpose of organizing the Conference is to make the students aware of the changes and transformation taking place in the field of academics, and research in addition to promoting interfaith dialogue and engagement. He informed the audience that the MUL was honored to receive a Global Governance Award on rendering excellent services in promoting higher education this year. He congratulated the scholars on coming all the way to attend the Conference in Lahore.
Reading out his research paper, Dr Charles Andrew, a research scholar from Australia, said that modern research has concluded that a human being is capable of thinking in 70 different ways. He said that if one's mode of thinking is positive, that will have positive influence on the outside and vice versa. He said that internal change is a must to be able to bring about external change. He said that the world is not spending the amount of money on promoting amity and peace that it is spending on manufacturing and buying variety of arms.
Dr Charles Andrew identified inferiority and superiority complex, bias and greed as the mother of all evils. He said that religion and spirituality has a very strong connection with one's inner self. He said that when a man is able to recognize himself, he rises above all kinds of negative feelings. He said that if there is a conflict and commotion in the mind, it will likely have a negative impact on the society too. He said that the process to change others starts with changing oneself, adding that only when one gets out of the confines of one's being that one is able to feel for others. He said that the Sufis and spiritualists would work hard on changing themselves. When they recognized themselves, it led to peace within which they distributed in the society outside. He stated categorically that unless one purged one's heart of all the dirt and made it hub of peace, one would not be succeed in establishing peace in the society.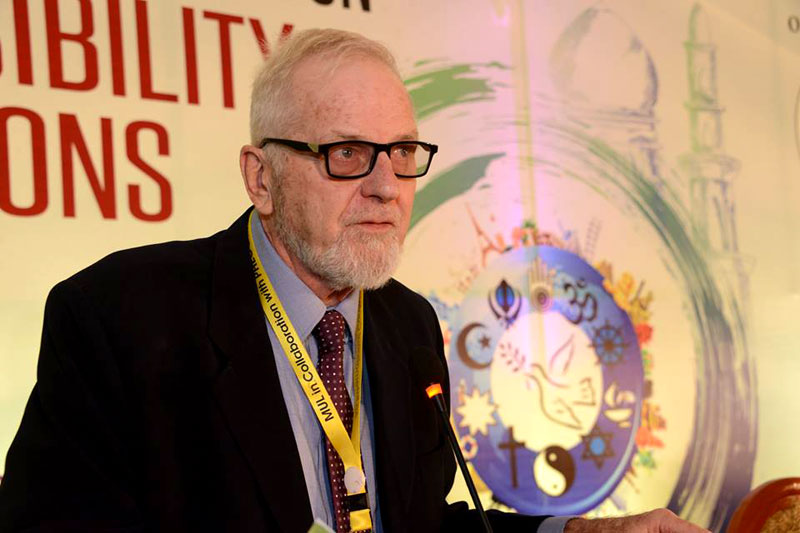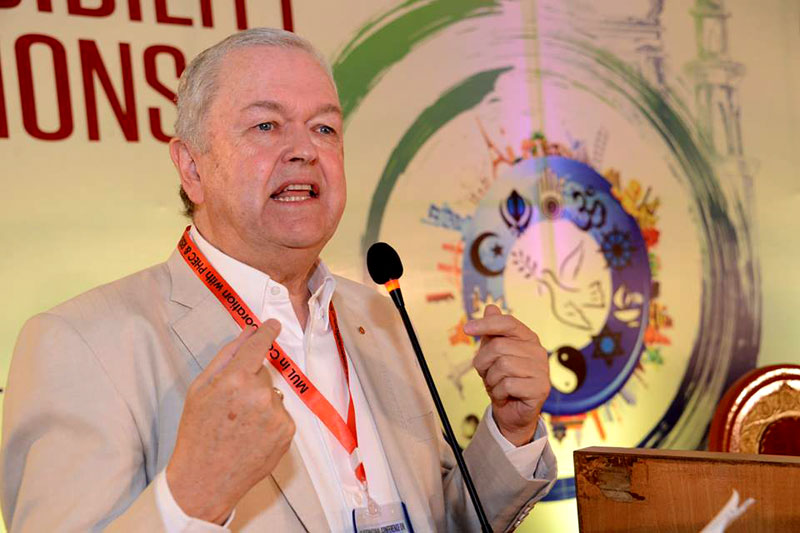 The proceedings of the Conference got underway with the recitation from the Holy Quran. Prof. Joseph Sun, vice rector of FC University, Prof. Dr. Imtiyaz Yusuf of Thailand, Dr. Safiyanu Ishiaku of Nigeria, Gowhar Quadir Wani of India, Prof. Dr. Emmanuel o. Inyama and Dr. Ibrahim Olatunde Uthman of Nigeria, Dr. Ryan Breshears, Venerable BomHyon Sunimi of Australia, Dr Umme Salma, Dr Shumaila Majeed, Raza Naeem, Dr Ramzan Shahid, Dr Muhammad Ayaz Khan, Anwar Ali, Uzma Naz, Hassan Ali, Muhammad Hassan Ibad, Hasnain Ali, Hadiba Saqib and Sabir Naz presented their research papers. Madam Samreen performed the duties of the Stage Secretary. The two-day Conference was hosted by the School of Religions and Philosophy. The head of the department presented the welcome address and threw light on the importance of the interfaith dialogue.
Khurram Nawaz Gandapur, Brig. (r) Iqbal Ahmad Khan, Khurram Shahzad, Col. (r) Mubashir, Col. (r ) Muhammad Ahmad, Ms. Rabia Ali, Robina Saeed, GM Malik, and Noorullah Siddiqi were the prominent personalities in the audience.