Warm welcome accorded to Raja Muhammad Jamil Ajmal, the new Director Foreign Affairs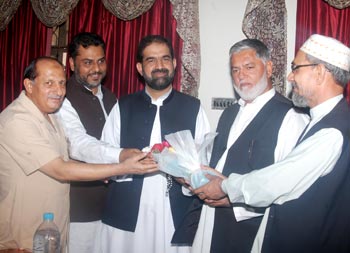 Shaykh-ul-Islam Dr Muhammad Tahir-ul-Qadri has appointed Raja Muhammad Jamil Ajmal as the new Director of Foreign Affairs Minhaj-ul-Quran International (MQI). A welcome lunch was served in the honour of Mohtram Raja Muhammad Jamil Ajmal in the MQI Secretariat, on 28 April, 2010 as he took over the responsibilities. The top leaders of the MQI Secretariat, Naib Amir-e-Tehrik Brig (R) Iqbal Ahmed, Nazim-e-Aala Dr Raheeq Ahmed Abbasi, Snr. Naib Nazim-e-Aala Sheikh Zahid Fayyaz, all other Naib Nazmin-e-Aala and Nazmin heading various departments extended warm welcome to Raja Jamil Sahib on the occasion.
Introducing Raja Sahib to the central leaders, Dr Raheeq Ahmed Abbasi told that Raja Sahib was a staunch follower of Shaykh-ul-Islam Dr Muhammad Tahir-ul-Qadri who had been in the Gulf for last over thirty years, rendering his most dedicated services as Director Protocol to Huzoor Shaykh-ul-Islam for long. He is one of the senior most dedicated functionaries of Minhaj-ul-Quran International, serving the cause of the Prophetic Mission. Versatile and dynamic, Raja Sahib has also been serving as Secretary General Pakistan Awami Tehrik (PAT), in addition to his basic assignment as President MQI. Fairly vibrant and energetic, he would remain involved in the promotion of the mission with his heart and soul; he has valuably contributed as Secretary MQ Council of Thinkers, as well. Raja Sahib is now back in Pakistan, and has been honoured by Shaykh-ul-Islam to serve at the Secretariat of the MQI, with the new zeal and enthusiasm. With his experience, vision and dedication, the MQI feel glad and welcome him to join the team at MQI Secretariat.
Dr Raheeq Ahmad Abbasi also paid rich tribute to the matchless services of Mr Muhammad Mustafa (GM Malik), who has been elevated to the appointment of Naib Nazim-e-Aala MQI by Huzoor Shaykh-ul-Islam, after contributing meritoriously to the Directorate of Foreign Affairs, and has now handed the charge over to Raja Jamil. He especially mentioned the legendary role worthy Malik Sahib has been playing in multiple ways and departments of MQI to strengthen the process of struggle for the Prophetic Mission, under the most enlightening and galvanizing leadership of Shaykh-ul-Islam. Malik Sahib is one of the veteran, senior most and luckiest servants of the Mission, and has not left any department of MQI that he has not served. He is principal secretary to Huzoor Shaykh-ul-Islam and looks after departments like IT Beauru, Muslim Christian Dialogue Forum, Deputy Registrar Minhaj University Lahore, and liaison with the diplomatic missions, political dignitaries, intellectuals, spiritual celebrities and religious scholars. His contribution to the Prophetic Mission baggers description.
Addressing the luncheon, Mr Muhammad Mustafa (GM Malik) expressed, in his typical humble style, his heartfelt gratitude to the central leadership of MQI present there. He said it was all special benevolence of Shaykh-ul-Islam and his spiritual eye on him that adds sterling qualities to everyone he glances at. He welcomed the incoming Director DFA and expressed his confidence that Raja Sahib being experienced and able, would take his department to new heights of efficiency and achievements.
Raja Jamil also spoke on the occasion, and expressed his confidence that with the blessings of Huzoor Shaykh-ul-Islam and the cooperation of the MQI central leadership he would, Insha Allah, be able to perform, as Shaykh-ul-Islam has expected of him. He said he took it as a divine decision to serve the Mission of the Beloved Messenger of Allah now at MQI Secretariat, under the blissful leadership of Shaykh-ul-Islam Dr Muhammad Tahir-ul-Qadri.