MSM protests against Israeli aggression
The hundreds of students belonging to different colleges and universities took to the streets, under the banner of Mustafavi Students Movement, to protest against the Israeli aggression inflicted upon the Freedom Flotilla. MSM Secretary General Sajid Gondal led the demonstration accompanied by Abdul Ghaffar Mustafavi, MSM president of Lahore chapter, Ali Raza, Muhammad Imran and Ch. Asim Bashir. The students were carrying placards with slogans inscribed against the Israeli barbarism and brutality.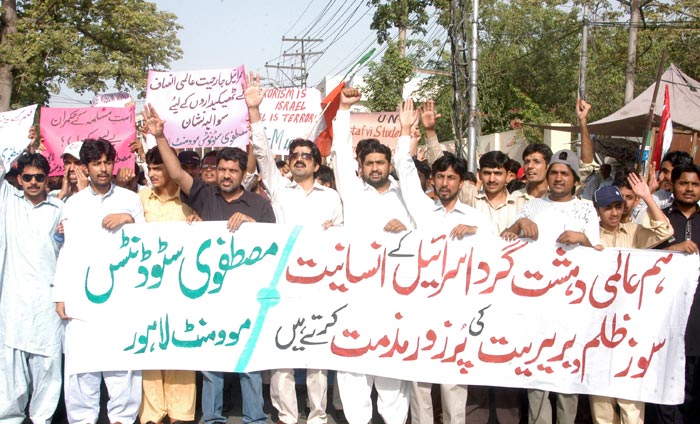 Addressing the students on the occasion, MSM Secretary General Sajid Gondal said that Israel was the greatest threat to the establishment of durable peace in the world. The Jewish state kept on subjecting the Muslims to the worst state terrorism without fear of being held answerable for its actions. He said that it is the responsibility of the international community, the UN and the OIC to rein in the hawkish Israeli leadership and hold it accountable for its doings. He demanded immediate release of the leading Pakistani journalist Talat Hussain, Raza Mahmud Agha and others. He said that it was unfortunate that Israel let loose its hegemonic and oppressive power against the Muslims and our leaderships did nothing in return to shield the harmless Muslims from the state oppression.
Other speakers said that Israel was a scar on the world conscience and it resorted to heinous actions with abandon by violating human rights and international law. They said that had Israel not enjoyed the backing of the great powers, it would not have behaved the way it has. It was high time that the Muslim leaders across the globe gave up political expediencies and worked out a collective strategy to contain Israel. 'This entails taking decisions for collective interests over and above vested interests,' they emphasized. MSM also organized anti-Israel demonstrations in other major cities such as Islamabad, Karachi, Faisalabad, Bhakar, Multan, Bahawalpur and Gujranwala to awaken the global conscience.