Pak scholar in Vadodara, thanks Modi for security
Syed Khalique Ahmed : Vadodara, Sun Feb 26 2012, 01:55 hrs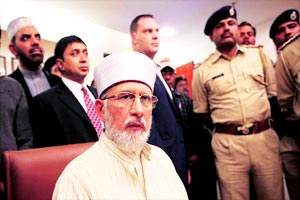 Pakistani Islamic scholar Maulana Tahirul Qadri, who was in the city on Saturday, refused to speak on the 2002 riots, saying he "does not want to make any comment on any specific issue".
"I don't know much about provincial leaders in India and so, I can't make any comment about them," he said. He also thanked the state government and CM Narendra Modi for providing security for his trip and making his programmes possible.
Saying what happened in Gujarat in 2002 could not be undone and the mistakes of that time could not be rectified, he asked people of all faiths to move forward for a better and bright future. He said even Bhagwad Gita preaches tolerance, peace, love and mutual harmony.
His life's aim was to promote inter-faith, inter community dialogue and harmony at global level and would do everything to promote the same things in India as well, he further said.
Asked if he was meeting Modi, he said it was not on his itinerary. However, he said Minister of State for Home Praful Patel was likely to meet him. Asked about some groups in Gujarat who had opposed his visit, he said, "I just pray for the good of my opponents and have no ill will against them."
Source : http://www.indianexpress.com/news/pak-scholar-in-vadodara-thanks-modi-for-security/916841/