Building bridges key to promoting peace: Interfaith moot
Pakistan is a land of peace lovers. If you extend respect to one another, it leads to promotion of peace, tranquility and harmony in society. No religion of the world sanctions the use of violence and hatred. Shaykh-ul-Islam Dr Muhammad Tahir-ul-Qadri has rendered a great service to humanity by initiating dialogue and engagement among the followers of different religions. His religious edict against terrorism, militancy and suicide bombing has provided intellectual and practical guidance to the world. His services for peace and promotion of interfaith dialogue are praise worthy.

These views were expressed by Reverend Dr Laif Hathland, President of Global Mission, in his speech at a peace seminar organized Minhaj-ul-Quran International in Lahore today. Reverend John Holly, Reverend Bob Fellis, Reverend Billy Burton, GM Malik, Javed Akhtar Bhatti, Marqas Fida, Jawad Hamid and Sajid Mahmood Bhatti were also present on the occasion.
Reverend Dr Hathland said that love had common and shared language. It is an emotion that can eliminate hatred and an atmosphere of fear. He likened it to a light, which has the potential of ending darkness.
Faiz-ur-Rehman Durrani said that MQI was working effectively to promote peace and harmony in the world. He said that Dr Muhammad Tahir-ul-Qadri has dedicated his life to promotion of peace and interfaith dialogue. The results of his efforts in building bridges among different cultures and civilizations are bearing fruits in the six continents of the world. He said that internal transformation of individuals can lead to peace and tranquillity in society.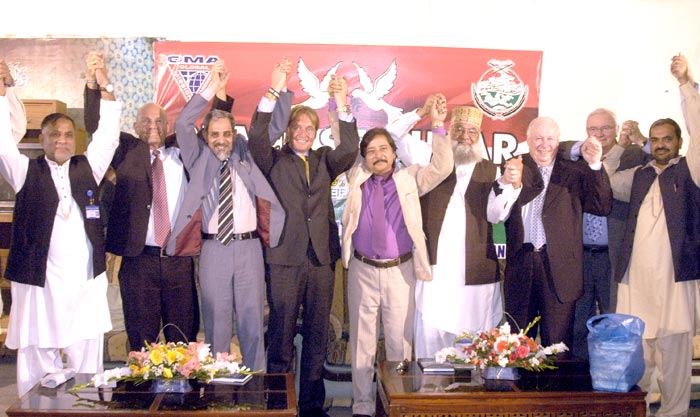 Dr Raheeq Abbasi said in his speech that Dr Muhammad Tahir-ul-Qadri is emphasizing to highlight commonalities and making it basis for interfaith dialogue among different religions. He said that this unique initiative was being following in other contexts. He said that Dr Tahir-ul-Qadri did a great service to the world peace when he assembled the leading figures of six great religions in the Wembley Arena some time back. Through that conference, he conveyed a message that it was responsibility of followers of all religions to foil conspiracies against peace and harmony in the world. He said that effects of his efforts and contributions are clearly and manifestly discernible in the world. He said that Dr Tahir-ul-Qadri removed confusion and helped create an atmosphere of trust, which is so vital to fight off the challenges of today.
Dr Marqas Fida said that visit to central secretariat of MQI was always a matter of great pleasure. He said that due to work of Dr Tahir-ul-Qadri, the minorities felt secure and more confident. He said that engagement among followers of different culture was a key to promote peace in the world.
GM Malik, Dr Obaidullah Ranjha, and other speakers also spoke on the occasion.