Dr Tahir-ul-Qadri calls for OIC moot on blasphemous film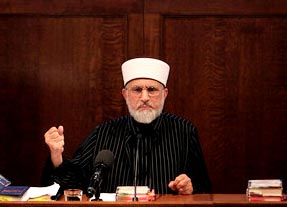 Condemning in the strongest words the screening of blasphemous film in the US, Shaykh-ul-Islam Dr Muhammad Tahir-ul-Qadri has said that those involved in the movie in any manner or role are enemies of the humanity. He said that no one could be allowed to undertake such heinous act under the banner of freedom of expression. He said that the sanctity of holy personages, Prophets and religions was protected under the United Nations Conventions and other laws and it was responsibility of individual country to ensure that no blasphemy takes place.
Dr Muhammad Tahir-ul-Qadri said that no institution, or an individual or a country could be allowed to hurt the emotions of over a billion Muslims. He asked the OIC to convene an emergency meeting of the apex Muslim body and force the US to shut down the screening of the accursed movie.
Dr Muhammad Tahir-ul-Qadri also asked the President, Prime Minister of Pakistan, Opposition leaders and political forces that claimed to represent the masses to put across their feelings in a straightforward manner. He said that the Government of Pakistan should immediately summon the US Ambassador to the Foreign Office and lodge its strong protest, demanding a ban on the film.
Dr Muhammad Tahir-ul-Qadri said that one the one hand, there was unending talk of eliminating terrorism and establishing durable peace, on the other hand, such acts were being carried out, which had the potential of derailing peace efforts thereby rendering the world even more vulnerable to new dangers. He said that such acts could jeopardize world peace and spawn more terrorism. He said that there were strong possibilities that the world could plunge into a pit of destruction if such activities continued to take place unhindered.
Dr Muhammad Tahir-ul-Qadri said emphatically that if West was really interested in establishing peace and eliminating terrorism, it needed to act fast to put an end to such acts. He said that relevant laws existed in the world and their implementation in letter and spirit would help tackle radicalism. He said that there was also need to modify the legislations to make them more deterrent and stringent so that such heinous actions should be banned, which are undertaken in the name of freedom of expression.