'Orders issued for long march security'
January 07, 2013 - Updated 203 PKT
From Web Edition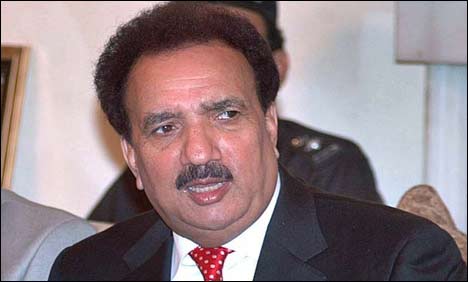 LAHORE: Interior Minister Rehman Malik Monday called on Minhajul Quran chief Dr Tahirul Qadri and apprised him of security threats linked with his proposed long-march on Islamabad, Geo News reported.
Speaking to media after the meeting Malik, however, said that orders have been issued to the Chief Secretary and IG for provision of security to the participants of the January 14 long march on Islamabad.
He said that nobody could oppose Qadri's demands regarding electoral reforms.
"I am not here to hold negotiations with him (Qadri)", he said and added that the government did not intend to stop the march instead the participants of the gathering would be facilitated in the federal capital.
Malik said that Qadri did not want a delay in elections. He said that Tahirul Qadri's agenda could not be dubbed as wrong. The minister added that Tahirul Qadri's demands were not extra-constitutional.
Speaking on the occasion, Qadri made it clear that talks were not aimed at postponing the march. He vowed that the long-march would be staged on January 14 at any cost.
He reiterated that the Constitution should be adhered to in holding the general election.
Source : http://www.thenews.com.pk/article-82832-Malik-calls-on-Tahirul-Qadri-