Pakistan's politicians smell plot to derail polls in cleric's march plans
Parties fear that Tahir-ul-Qadri's million man march to protest against corruption could threaten first peaceful transfer of power
guardian.co.uk, Friday 11 January 2013 14.27 GMT
Jon Boone in Islamabad
A Muslim cleric's plan to stage a "million man march" against political corruption in Pakistan's capital city next week has triggered consternation among political parties who fear a plot to derail the country's first ever democratic transfer of power in upcoming elections.
Tahir-ul-Qadri, the religious leader who dramatically returned to Pakistan last month after years of living in Canada, has said he will turn Islamabad into "Tahrir Square" – the area in Cairo that became the epicentre of Egypt's revolution last year.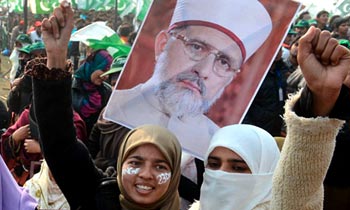 "This is not a matter of coming for one day and then dispersing," he told the Guardian. "We will sit there until our demands are fulfilled so that the election will be guaranteed to be fair, honest and free of all corrupt practices."
Qadri, a religious moderate and an expert on Islamic law who once sat in the Pakistani parliament, has been compared by some to the Indian anti-corruption campaigner Anna Hazare. His organisation Minhaj-ul-Quran has deep roots in Pakistan, with a network of hundreds of schools.
He said his demands for reform would bring about "true democracy". They include the appointment of a caretaker government that is not appointed by Pakistan's current crop of politicians, and the disqualification of any parliamentary candidates who have broken the law or not paid their taxes.
He said otherwise there would be "massive pre-poll rigging" and the same powerful political parties and families would be re-elected, returning a governing class that has "totally failed to deliver".
He insisted that all his demands could be achieved without needing to delay the elections, due to be called after the government completes its term in just two months.
But established politicians are not convinced. They fear the presence of hundreds of thousands of protesters in the capital could create an excuse either for a military takeover or, more likely, the establishment of a technocratic caretaker government largely appointed by the army that could remain in place far longer than the 90 days that the constitution allows.
Ayaz Amir, an MP and newspaper columnist said his own party, the Pakistan Muslim League led by Nawaz Sharif (the PML-N), had the most reason to fear Qadri.
"They really believe that victory is theirs in the next election and they see Qadri as a manoeuvre, put up by the establishment, to derail the process and the election outcome. It's all very vague in their minds, but the paranoia is there."
Political uncertainty is rising in any event, with militant groups using the past few weeks to dramatically escalate their bloody attacks.
Thursdaywas one of the most violent days in months, when more than 120 people were killed by three bomb attacks in two different parts of the country. More than 90 people died in the city of Quetta alone when an extremist Sunni terror group called Lashkar-e-Jhangvi used two suicide bombers to attack a crowded snooker club.
While Qadri has talked of potentially millions of people joining him on his march on Islamabad, even conservative estimates have put the likely figure at hundreds of thousands, which would put severe strain on even the capital's grand avenues and test the organisational powers of Qadri's movement.
The government, led by the Pakistan People's party (PPP), has spent days hatching increasingly ingenious ways to try to scupper the cleric's plans.
Earlier, senior officials tried to encourage Qadri to hold his rally in sprawling parkland far away from the centre of Islamabad. Meanwhile, roads leading to symbolic areas, such as parliament and the embassy quarter, have been sealed off by shipping containers.
More recently, the government has significantly toughened its stance. The interior minister, Rehman Malik, appeared at a press conference brandishing intelligence reports showing militant plans to attack the procession and rally. The Pakistani Taliban has denied that it intends to try to disrupt the march.
Malik also warned marchers of the lesser threats posed by the unusually cold weather that has hit Pakistan this winter and the threat of being bitten by snakes.
In addition, he announced a ban on rallies in the commercial district of the city and claimed the march would be blocked from entering Islamabad unless organisers obtained a "no objection certificate" – which only the government can provide.
"We will not succumb to any illegal demand from Qadri and we want to tell him elections will be held on time, the path of progress would continue," he said.
The PPP, which has been heavily criticised for incompetence and corruption, regards the completion of a full five years in office as a historic achievement. If elections go ahead as planned, it will be the first time in Pakistan's 65-year history that one democratically elected administration has handed over to another without interruption by military rule.
Addressing a televised press conference on Thursday, Qadri said he was "not afraid of bombs and bullets" and that he would sign a will before he departed from Lahore on Sunday.
"The march will take place at any cost," he said. "The government has lost all the right to rule."
But the government's most effective weapon has been behind the scenes dealing with its key coalition ally, the Muttahida Qaumi Movement.
Altaf Hussain, the London-based head of the MQM, created consternation within the PPP when he announced that his party would join the march.
Many commentators argued that it was ludicrous for part of the governing coalition to join a protest against government corruption, although Hussain continued to escalate his rhetoric, even threatening to launch a "political drone strike", which many interpreted as a plan to quit the government.
In the end, a two-hour speech delivered by Hussain by telephone from London on Thursday produced no "drone strike". On Friday the party announced that it would not attend the march after all, citing security threats.
The withdrawal of support by the MQM means all of the country's major parties, including the PML-N faction and Imran Khan's Pakistan Tehreek-e-Insaf, have closed ranks against Qadri.
Source : http://www.guardian.co.uk/world/2013/jan/11/pakistan-politicians-cleric-march-plans