The mystery of Tahir ul Qadri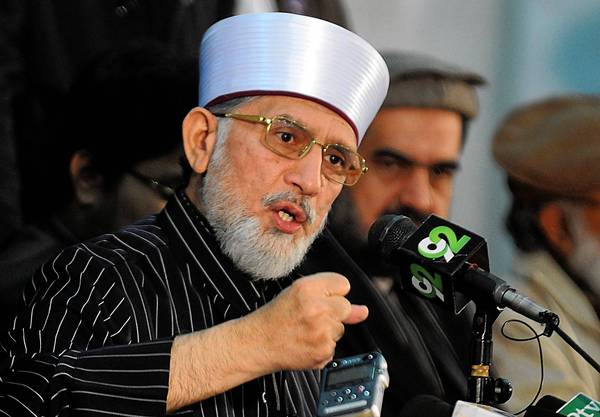 WHO and what is Tahir ul Qadri? And, more importantly, who is behind him? Those are the questions now racing through political Pakistan, with no firm answers. The religious cleric, previously a minor figure politically, has been living in Canada since 2006, where he acquired Canadian citizenship. Since he arrived back in Pakistan last month, however, Mr Qadri has caused a political sensation with his demands that Pakistan's democratic system be reformed. He wants to throw the "criminals" out of Pakistani politics, the implication being that doing so would leave very few of today's politicians still in business.
Mr Qadri seems to have unlimited funds available to him and a huge and growing following. A rally held on December 23rd in Lahore, the provincial capital of the politically all-important Punjab province, attracted hundreds of thousands of people. (Mr Qadri claimed it was a crowd of two million.) Now he is to march on the capital, Islamabad, aiming to take four million people to that small and usually serene city on January 14th.
In an interview, Mr Qadri says that wants to "get rid of electoral dictatorship". At times he talks about a "Tahrir Square" situation, though he also denies wanting to topple the government. Unlike Egypt before the Tahrir Square protests, Pakistan already has an elected government and is due to hold elections before the summer.
Mr Qadri insists that before those elections are held, however, a system must be put on place to probe the integrity of candidates, who would have to pass a "pre-clearance" process in order to be able to stand. It would check if they had paid their taxes (a recent report found that 70% of parliamentarians did not file tax returns), whether they had defaulted on loans (many politicians use their influence to get loans written off), and so on. According to Mr Qadri, most of what he is asking for is already contained in the constitution and electoral laws, but just isn't implemented. He denies that he is trying to end Pakistan's democratic experiment. "I just want to put true democracy on track," he says.
If the elections take place as planned, it would be Pakistan's first transition from one elected government, which had completed its term, to another. So it is an important moment for the country, which has been ruled by the army for half its history. That is also why Mr Qadri's puzzling sudden appearance has caused so much consternation and speculation.
In Pakistan the military has always curtailed the lives of civilian governments, either by direct takeover or by pushing civilian stooges to knock over regimes. Many of those who have seen this cycle repeatedly believe that Mr Qadri is the latest incarnation of the military stalking-horse. There is no proof, of course. But the Qadri phenomenon is very odd. For a start, his organisation is not willing to give any figures on its income.
Mr Qadri's demand for clean politics sounds reasonable and he insists that elections must go ahead on time. But many suspect that he has deliberately set conditions that can never be met. The pressure that he can now apply, with his march on Islamabad, could be used to influence the composition of the caretaker government—an interim administration that must be installed to oversee the election, according to the requirements of the constitution. Politicians from both the government and the main opposition party fear that a pro-military caretaker government might then find an excuse not to hold those elections.
For weeks, television advertisements for Mr Qadri have filled each commercial break on Pakistani channels. His billboards and posters are everywhere. The Lahore rally was an expensive showpiece, and the Islamabad march will be very costly. His organisation has, for example, hired around 50,000 buses to take the demonstrators.
Mr Qadri's desire to cleanse the political system is a constant fantasy of Rawalpindi, the garrison town next to Islamabad which houses the military headquarters. Mr Qadri is also against terrorism and suicide bombing, the other big current concern of Rawalpindi. The theory about his military links also holds that he has the tacit support of the West too, as the price that America, Britain and other powers are willing to pay for the Pakistani military's help in exiting Afghanistan with some kind of political settlement there. But both the Pakistani military and American officials have denied any connection to Mr Qadri, and he has also denied any such link himself.
A religious moderate from the gentle Sufi tradition, Mr Qadri published a weighty tract against terrorism in 2010. He is able to tap into the religious beliefs of the majority of Pakistanis, who broadly follow the Sufi way, not the austere Saudi-influenced radical Sunni Islam that has come to dominate public debate in the country.
On reaching Islamabad, Mr Qadri will ask his supporters to stay until his demands are met. The authorities are sealing off the capital and camping out will be a challenge in the chilly winter weather. It will certainly create a volatile situation, which could be tipped into chaos by a terrorist attack on the protesters. Cynics suggest that the whole point is to create enough havoc that holding elections will be impossible. Pakistan is already threatened by anarchy from terrorist violence. This week there was a truly gruesome double-bombing, at a snooker hall that was used by members of the minority Shia Islamic sect, in the western city of Quetta. At least 93 people were killed.
The military has vowed to stay out of politics this time and to allow democracy to run its course. But it may be that Rawalpindi is anxious at the poor governance and economic collapse that the current government, led by Asif Zardari's Pakistan People's Party, has presided over. The problem for the generals is that, as much as they may hate President Zardari, the alternative—opposition leader and former prime minister Nawaz Sharif—would be even less palatable. Hence, goes the theory, their search for a different civilian savior. The idea would be to install an unelected civilian government of technocrats. If Pakistan's military really is behind Mr Qadri, it has learnt nothing from its own sorry history of political interventions and may be about to commit its biggest folly yet.
Source : http://www.economist.com/blogs/banyan/2013/01/pakistani-politics