Tahir ul-Qadri: The cleric who wants to disrupt Pakistani politics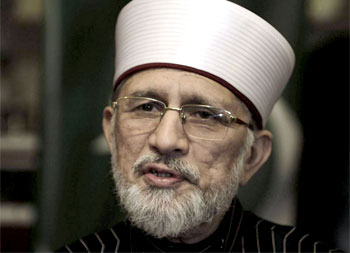 A cleric has burst on to the political stage in Pakistan vowing to "get rid of electoral dictatorship" in a move that could scupper elections this spring.
On Monday, Tahir ul-Qadri aims to lead four million people on a march into the capital, Islamabad. He and his supporters will demand political reforms take place before any election goes ahead to ensure that "criminals" cannot serve in the next parliament.
The government, led by the Pakistan Peoples Party, has almost completed its five-year tenure. If the election takes place, it would be the first time that one elected government hands over to another. Under the constitution, a neutral caretaker government must be installed for no more than three months to oversee the election, but politicians fear a pretext will be found to prolong the caretaker regime.
In a country plagued by long periods of army rule, many accuse Mr Qadri of being a front for a military-backed plot to postpone the elections indefinitely and install an unelected government of "technocrats", hand-picked by the generals. They also believe that he has support from the West, which is siding with the powerful Pakistani military to ease the forthcoming exit of its forces from Afghanistan.
Mr Qadri told The Independent his aim is "to get rid of electoral dictatorship", describing himself as a "democratic reformist". "I just want to put true democracy on track. It is an absolute lie to say that I want to derail democracy," said Mr Qadri, who denies any link to the military or foreign powers. "We have a parliament of defaulters, tax evaders and other criminals. These lawbreakers are the law-makers."
The forthcoming election is widely heralded as a milestone for democracy, but Mr Qadri sees little to celebrate. "This government couldn't deliver anything to the people, no eradication of terrorism, nothing," he said. "The people have given them their full time in office. What a joke."
A follower of the mystical Sufi branch of Islam, he has written tracts against terrorism and suicide bombing, and has lived in Toronto since 2006. Having built a large following in Pakistan and abroad, through his Minhaj-ul-Quran organisation, he returned last month in triumph at a rally in Lahore.
It is thought that tomorrow's march could cause chaos or fall victim to a terrorist attack, creating more potential obstacles for the polls. A wave of blasts has scarred Pakistan in recent weeks, including a double bombing this week in the western city of Quetta.
Mr Qadri insists he wants the elections to be held on time and that his reforms could be implemented without delay. He has called for the Election Commission to "pre-clear" candidates, after checking that they paid taxes and had not defaulted on loans. But political observers see a wider agenda. Ali Dayan Hasan, Pakistan director at Human Rights Watch, said: "It appears that Tahir ul-Qadri wants to derail the democratic process.… This would be entirely unacceptable because Pakistan is on the cusp of the first transfer of power from one civilian government to another.
Source : http://www.independent.co.uk/news/world/asia/tahir-ulqadri-the-cleric-who-wants-to-disrupt-pakistani-politics-8448661.html