Qadri affirms resolve to lead long-march
International The News
January 11, 2013 - Updated 1551 PKT
From Web Edition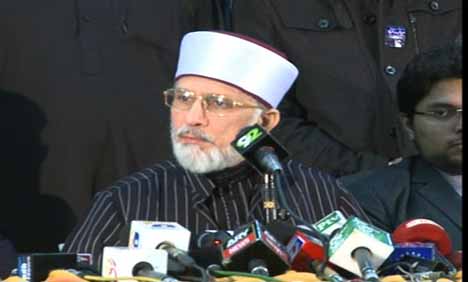 LAHORE: Tehreek-e-Minhajul Quran (TMQ) Chief Dr Tahirul Qadri said on Friday that he would lead a long-march on Islamabad at any cost as per schedule and there should be no illusion in this regard, Geo News reported.
Affirming his resolve to lead the march, he told a news conference that the incumbent government had lost legal, moral, and Constitutional authority to govern the country after Thursday's carnage across the country which led to killing of over 100 people.
Qadri applauded the judiciary for dismissing writ petitions against his march and declaring them legal.
"The courts declared long-march lawful democratic and according to the fundamental rights provided by the Constitution of Pakistan,….I would request the local and foreign media that they should speak of the judiciary rejecting these writ petitions," he added.
He took exception to the Punjab government measures to create hurdles in the way of his long-march and said that the administration was directing the transporters to return advance money which they received to transport the participants of the march to Islamabad.
The TMQ chief said that ministries in the federal and the Punjab governments had been backing terrorists with providing them with safe havens.
He announced that he would make a will before his family members (Friday) today and advised them as to how they would continue his mission.
Qadri said that President Asif Ali Zardari, Prime Mininster Raja Pervez Ahsraf, Interior Minister Rehman Malik, Nawaz Sharif, Shahbaz Sharif and Punjab Law Minister Rana Sanaullah would be responsible if any untoward incident occurred during the long-march.
Source : http://www.thenews.com.pk/article-83357-Qadri-affirms-resolve-to-lead-long-march