Qadri leads thousands towards Islamabad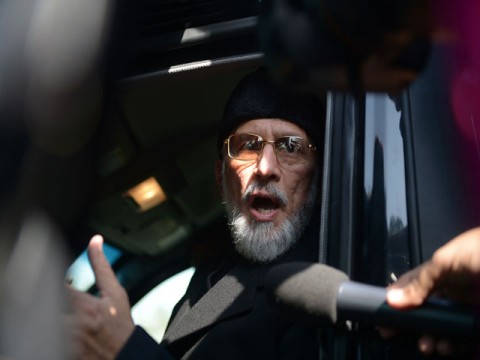 Tens of thousands of Pakistanis inched towards Islamabad Monday, in a protest march led by an influential cleric calling for revolution but accused by the government of trying to sow political chaos ahead of elections.
Tahirul Qadri, a Pakistani-Canadian who returned to his homeland last month after years in Toronto, accuses the government of being corrupt and incompetent, and says polls cannot be held until reforms are enacted.
He claimed on Monday to be leading one million people into Islamabad, where they will camp out on the streets until their demands are accepted.
But the significance of the rally will likely hinge on turnout, whether there is any violence at the gathering and to what extent the protesters are able to penetrate Islamabad, where shipping containers have been used to seal off the main approaches.
Witnesses estimated that tens of thousands of people had joined the rally by the time it reached Jhelum, 120 kilometres (75 miles) south of the capital.
In Jhelum, an AFP reporter saw men, women and children carrying Pakistani flags and piled onto the rooftops of buses, flashing victory signs as part of a five-kilometre convoy of cars, trucks, motorcycles and other vehicles.
Anthems blasted out of loudspeakers as protesters danced to drumbeats and residents lined both sides of the road, showering the crowd with rose petals, a traditional welcome in Pakistan.
Qadri wants an independent caretaker government to be set up in consultation with the military and judiciary when parliament disbands in mid-March, and is calling for reform so that "honest people" can be elected at polls due by mid-May.
"Come out of your homes to save Pakistan, save the future of your children, save your religion, save the honour of the country in the comity of nations, save the country from robbers, thieves and corrupt rulers," he said.
If held on schedule, the election will mark the first democratic transition of power between two civilian governments in Pakistan's 65-year history, which has been marked by bloodless coups and extensive periods of military rule.
Mainstream politicians fear that Qadri's demand for the military to have a say in the caretaker set-up could be a ploy by elements of the establishment to prolong the interim administration and delay elections.
Interior minister Rehman Malik has repeatedly warned that the Taliban could launch an attack on the march.
Thousands of security officers deployed in Islamabad to help protect government and diplomatic areas as hundreds started to gather in the city.
Many of those taking part in the protest are long-standing followers of Qadri and activists in his Tehreek-e-Minhajul Quran movement, which has a network of religious and educational institutions in Pakistan and all over the world.
"We are following him for bringing change into our country. We will stay in Islamabad till change comes," said Faiza Iftikhar, a coordinator in the organisation from the industrial city of Faisalabad.
Unemployed Mohammad Khan, 50, from the town of Gujar Khan said he was not a member of the movement, but had joined the protest because he wanted change.
"I want justice in the society and it will come through change," he said.
Source : http://www.nation.com.pk/pakistan-news-newspaper-daily-english-online/national/14-Jan-2013/qadri-leads-thousands-towards-islamabad