Tough talk: Qadri's demand vis-a-vis ECP puts govt in quandary
Published in The Express Tribune,
January 14th, 2013.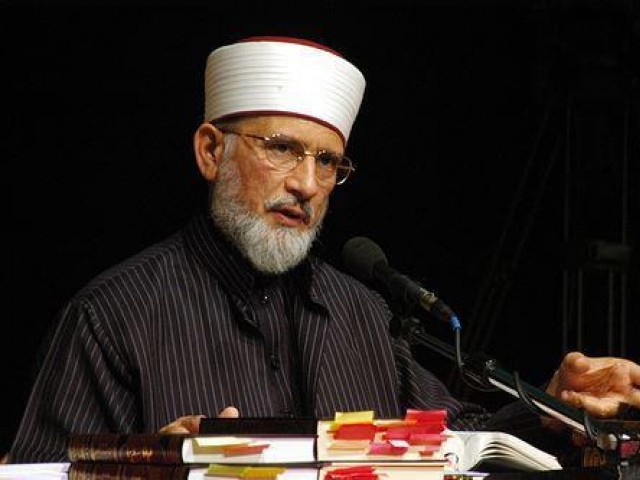 ISLAMABAD: Dr Tahirul Qadri whose march was rolling towards the capital has conveyed a few demands to the government, with sacking of election commission featuring as the first and foremost.
Qadri, who has vowed to make public his other demands in the federal capital, wants immediate installation of an interim setup acceptable to all stakeholders and implementation of articles 62 and 63 of the Constitution that set a strict criteria for individuals to be eligible to contest elections.
Sources said the government team headed by Chaudhry Shujaat that held many rounds of talks with Dr. Qadri had conveyed him some positive signals that it was ready to negotiate. But the government considers as 'unconstitutional' his demand of dissolving the election commission.
"There is no other way except bringing an amendment to the constitution with a two-thirds majority," a cabinet member said.
In the existing constitution there are two provisions to remove ECP hierarchy: either any of the four members and the chief election commissioner resign on their own or through a Supreme Court reference.
The long march, which was overshadowed by the countrywide protests against killings of Hazara community in Quetta, is likely to enter the capital on Monday afternoon (today).
Minhajul Quran's long march and countrywide protests of the Shia community have almost paralysed cities and towns across the country. Political pundits are predicting important changes in the next few days and fear that the situation could go out of hand if the federal government failed to act prudently.
March deal
Interior Minister Rehman Mailk has claimed that district administration of the federal capital has inked a written agreement with Minhajul Quran officials that they would not go beyond the venue reserved for them by the administration. However, the local chapter of Minhajul Quran and its central leadership have denied reaching any such agreement.
Dr. Rafeeq Abbasi, Qadri's key aide told The Express Tribune that no such decision had been taken.
According Ibrar Raza, president of Islamabad chapter of Minhajul Quran, followers of Dr. Qadri from areas adjoining the federal capital will start gathering in Islamabad in huge numbers from Monday morning.
Besides official security personnel, around 10,000 workers of Minhajul Quran will provide security services to the long march including 5,000 local volunteers, he claimed.
Some 400 workers are preparing the stage for leadership of the long march, he added.
The stage is being erected with eight 20-foot containers.
Minhajul Quran wanted to set the stage in D-Chowk tonight but the capital administration had been restricting them and persuading them to set it up some two kilometres away from the highly sensitive area.
Source : http://tribune.com.pk/story/493709/tough-talk-qadris-demand-vis-a-vis-ecp-puts-govt-in-quandary/