Qadri urges masses to take part in march
January 14, 2013 - Updated 845 PKT
From Web Edition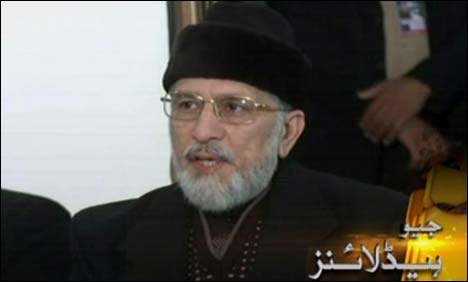 KHARIAN: The leader of Tehreek e Minhaj ul Quran (TMQ) has encouraged the masses to participate in the long march for the sake of country's sovereignty, security and prosperity, Geo News reported Monday.
The long march caravan of TMQ led by its leader Tahirul Qadri has reached Kharian and stopped near Deona Mandi.
Tahirul Qadri, while addressing the attendees and media prior to their departure from Kharian, said that the long march is continuing but due to the closure of mobile phone services in Lahore and adjoining areas, he is unable to contact other people.
He addressed the people via press conference and urged them to join hands with him in order to save their country from the plunderers and thieves. He said that people should participate in the long march else the same leadership will be elected in the next term.
The caravan resumed its journey towards Islamabad at 7:30 AM from Lalamusa after offering Fajr prayers in Kharian.
Source : http://www.thenews.com.pk/article-83693-Qadri-urges-masses-to-take-part-in-march