Tahirul Qadri to move SC for ECP's reconstitution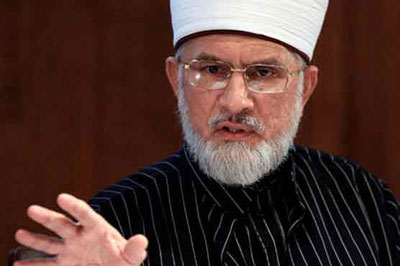 LAHORE: Tehreek-e-Minhajul Quran (TMQ) chief Tahirul Qadri, while demanding sacking of all provincial elections commissioners, has announced filing of two separate writ petitions to seek restructuring of the Election Commission of Pakistan and seizure of all development funds.
Addressing a press conference at the Minhajul Quran Secretariat on Thursday, Qadri announced his future plans about his demand for restructuring of the ECP, whose formation he termed unconstitutional. He said that he would file two petitions in the Supreme Court within the next 24 hours, first of which would seek the restructuring of the election commission, while the other would be filed for seizure of all the developmental funds.
The TMQ chief also declared that he would appear before the court in person and make arguments on his demand that the election commission be restructured. Qadri asserted that members of the ECP were appointed through an unconstitutional procedure.
Declaring the discretionary funds of the prime minister, chief ministers and parliamentarians as unconstitutional, Qadri called for their immediate freezing.
Source : http://www.paktribune.com/news/Tahirul-Qadri-to-move-SC-for-ECPs-reconstitution-257028.html