Army should come forward and save country: Qadri
Observer
Wednesday, February 20, 2013 - Lahore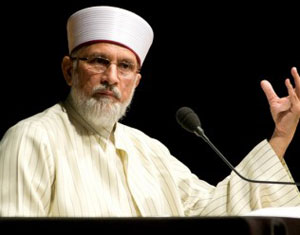 Tehreek-e-Minhaj-ul-Quran (TMQ) chief Dr Tahir-ul-Qadri has demanded that Quetta be handed over to the army, saying that civil institutions have failed miserably to control the law and order situation across the country.
Addressing a news conference in Minhaj-ul-Quran secretariat here on Tuesday, Qadri said that the army has to come forward to secure Balochistan and Quetta. He vociferously supported the Hazara community's demand for army take-over of Quetta city. He said the recent surge of terrorism in Pakistan especially in Quetta against a certain community was a conspiracy hatched against Pakistan to break it into pieces. "Civil administration has failed to restore peace in Quetta and now it is a constitutional duty of the army to come forward to save the country," adding he said under such circumstances calling the army to rescue the country is legal and constitutional. He said as many as 113 dead bodies lying on the road waiting to be burial but unfortunately neither any government's bigwig nor renowned politician arrived on the tragic scene to show consolidation with the aggrieved families and no rational being could expect any positive thing from such a brutal and senseless system.
Dr Qadri further said there is a conspiracy being hatched to separate Balochistan province from Pakistan. He warned that current wave of terrorism in Quetta and rest of the country could resulted in division of the country.
Criticizing judiciary he said the judiciary had released hundreds of terrorists who were involved in the worst terror activities in the country.
He expressed deep sense of grief and sorrow on the killings of members of Hazara community in Quetta. "Those who committed this heinous crime are barbarians and a blot on the face and conscience of humanity," he said.