Corrupt system to stay intact after elections: Dr Raheeq Abbasi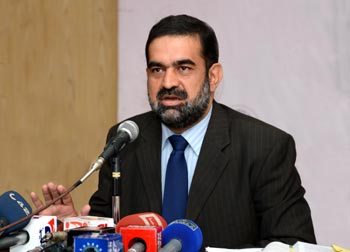 Dr Raheeq Ahmad Abbasi, President of Pakistan Awami Tehreek, has said that Dr Muhammad Tahir-ul-Qadri has made the people aware of the fact that a fraud is going to be committed with the entire nation on the 11th of May in the name of elections. He said that PAT fulfilled its responsibility, adding that the election outcome would further vindicate our point of view. He said that the illegally constituted Election Commission allowed the tax cheats, loan defaulters and fake degree holders to take part in elections. He reminded the nation that the Parliament, which would come into being following this month's parliamentary elections, would not change even one percent of the system.
PAT President said that PAT favoured the kind of clean politics, which was instrumental in saving the state and guaranteeing people their rights as enshrined in the Constitution. He said that saving Pakistan from collapse and decay and handing over prosperous and stable country to the succeeding generations was the objective of PAT. He said that traditional politics and our thought were in clash with each other, adding it explained why PAT would organize sit-ins against the corrupt and exploitative system on May 11.
Dr Abbasi expressed these views while addressing a meeting of PAT's Central Executive Council the other day. Khurram Nawaz Gundapur, Jawad Hamid, Sajid Bhatti, Bashrat Jaspal, and Fayyaz Warriach were also present on the occasion.
Dr Raheeq Abbasi said that PAT never supported anarchy and clash, further saying that the sit-ins would be staged far away from the polling stations. He said that the purpose of these demonstrations was to reject the incumbent electoral system. He said that PAT's workers would remain peaceful and calm and protest in an organized manner. He said that the sit-ins would be staged throughout the country and participants of these sit-ins would not stop anyone from casting votes.
He said that we wanted to tell the nation through these sit-ins that elections without reforms were a joke with the nation. He said that no stable government would be in power after the elections, which would add to the country's woes. He said that Long March and public rallies taken out by PAT proved that our struggle was for the sake of restoration of people's rights. He said that if the nation rejected this system, the same struggle would become the basis for durable change and real democracy in the country.