Minhaj-ul-Quran Women League protests attack on shrine of Sayyida Zaynab (RA)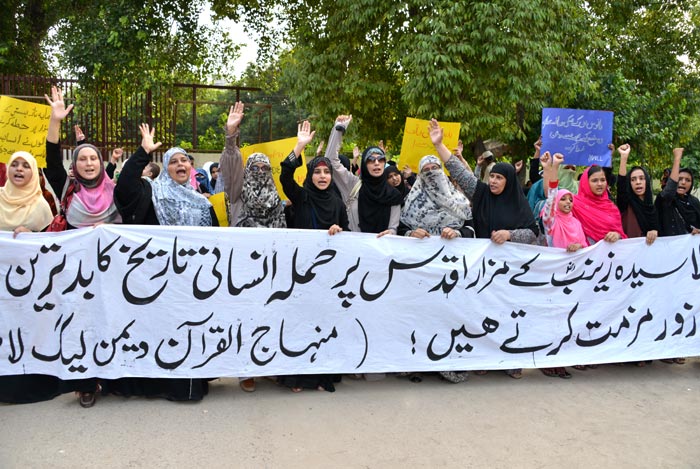 Minhaj-ul-Quran Women League (MWL) organized a peaceful demonstration in front of the Lahore Press Club today to protest the attack on the shrine of Sayyida Bibi Zaynab (RA). The demonstration was attended by hundreds of women who were carrying placards and banners with anti-attack slogans written on them. The protesters demanded of the United Nations, OIC and the Syrian government to take immediate notice of attacks on holy personages and bring the perpetrators of such heinous crimes to book.
Addressing the demonstration, Mrs. Noshaba Zia, central Secretary General of Minhaj-ul-Quran Women League, condemned the attack in the strongest possible words. She likened the heart-rending act to a great tragedy of human history, adding that the feelings of millions of the Muslims were injured throughout the world. She said that those who planned and executed such a crime did not deserve to be called humans as doing so was humiliation of humanity.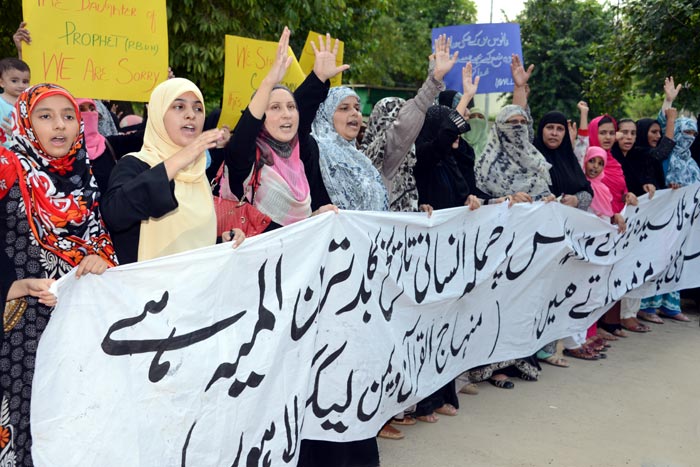 Mrs. Noshaba Zia asked the Muslim community to respond to such challenges peacefully both individual and collective levels and play their role to fulfill legal, moral and religious requirements against those who violated not only religious injunctions and civilized behavior and norms but also international law. She said that the worst form and manifestation of terrorism was that even religious symbols and personages were not safe from the hands of evil forces. Such an act as an attack on the shrine of Sayyida Bibi Zaynab (RA) was a blot on the face of humanity.
Paying glowing tribute to the grand-daughter of the Holy Prophet (PBUH), Mrs. Noshaba Zia said that a dignified, courageous and an honourable personality like Hazrat Zaynab (RA) is a metaphor of pride for the entire humankind who stood her ground before the might of Yazid and kept the banner of human freedom afloat. She further said that those who undertook attack on the shrine of such a revered personality had hung the humanity's head in shame.
Addressing the demonstration, Ms. Irshad Iqbal, the President of Lahore chapter of MWL, said that the people of Pakistan demanded of the Syrian government to apprehend all those elements who were involved in this attack and fulfill all religious, moral and legal requirements to make sure that no such thing occurred again. Sajida Sadiq and Gulshan Irshad also spoke to the demonstration.