PAT rejects hike in power tariff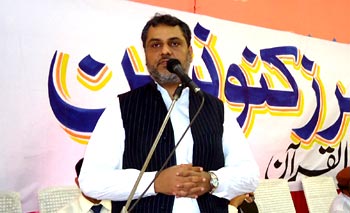 Criticizing the latest exorbitant hike in the power tariff for domestic and agricultural consumers by NEPRA, PAT President Sheikh Zahid Fayyaz has said that it appears the travails of the people never will end as they continue to face one difficulty after the other. He said that the government's repetitive increase in the electricity tariff has made people mentally stressed. He said that PAT rejects the latest hike in the power rates and demands its immediate withdrawal. He said that people deserve relief and it should be the government's endeavor to make their day-to-day life easy. He said that the government, on the other hand, is adamant to contribute to people's miseries.
PAT President said that dearness and inflation reached record level during the tenure of the incumbent government. He said that the country's economy was already under stress due to corruption and mismanagement but the handling of economy by the present government has added to the woes of the people. He said that the hiking up of power tariff coupled with increase in prices of POL products would provide a fillip to inflation, dearness and unemployment in the country.