Arrest or deport me if you have courage: Dr Tahir-ul-Qadri dares rulers
Says rulers business empire is spread over whole world
Says he has regularly been paying his taxes without fail
Our character is transparent like a glass.
Dr Tahir-ul-Qadri addresses executive body of PAT Punjab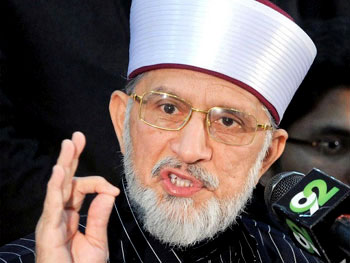 PAT leader Dr Muhammad Tahir-ul-Qadri has said that he is coming back to Pakistan on June 23 and whosoever has the courage to arrest or deport him should do so happily. He said that his announcement to return home had caused the government to become nonplussed, adding that he was coming to Pakistan for supremacy of law, establishment of real democracy and restoration of the suspended Constitution. He said that the people's power would see an end of corruption, and plunder of national resources. He said that those who had spent each and every moment of their life in money laundering and corruption should hang their heads in shame before raising allegations again him.
Dr Tahir-ul-Qadri expressed these views while addressing executive body of Pakistan Awami Tehreek Punjab. He said that the rulers' business empire had been spread over the entire world including the US, UK, Switzerland, Central Asia, and Middle East, adding that this expansion was caused by money laundering. He said that they were raising baseless allegations against such a person who never got even a single penny from the sale of his 500 published works and 7000 CDs and DVDs of his lectures.
Dr Tahir-ul-Qadri said that our character was like a transparent glass, saying that even if the rulers bent over backwards, they would not be able to trace even a speck of corruption. He said that Allah Almighty enabled him to stay clear of any wrongdoing during the last 33 years. He said that the same government filed 30 cases against him during both of their stints in power in 1990s but failed to prove them and had to face defeat consequently.
Dr Qadri made it clear that he never defaulted on payment of his taxes and had regularly been submitting his tax returns. He said that false allegations and slander would neither harm him nor his organization. He said that such devious tactics would fail to stop the march of revolution. Throwing a challenge to the rulers, Dr Qadri said that if it was proven that Rs. 100 belonging to Welfare Foundation had been spent on political activities, he would transfer all property of Minhaj-ul-Quran to the rulers, adding that if they failed to prove their allegations, they should distribute their 4000-acre strong property among the homeless people of Pakistan.
Dr Tahir-ul-Qadri directed the workers to continue their door-to-door campaigns armed with the conviction that the sun of revolution would soon rise. He said that revolution was destiny of this land and everyone should play his/her role in this regard.