Welcome Reception
A welcome reception was held at the central secretariat for three distinguished servants of Minhaj-ul-Quran International (MQI) who have taken up new key posts. Allama Safdar Majeed former Ameer MQI Spain and Allama Rana Idrees former Ameer MQI London, on the call of their beloved leader left their perspective prestigious jobs and came to Pakistan to work at the Central Secretariat of MQI.
Allama Safdar Majeed has taken up his responsibilities of Incharge of Training and Hostel Warden the College of Shariah and Modern Sciences (COSMOS) at the Minhaj University, Lahore. He will be a valuable addition to the college due to his experience in Dawah and propagation of the mission in Spain and Europe. His devotion and dedication to the Mission is evident by him leaving Europe and returning to work in Pakistan according to the wishes of Qaid Inqilab Dr Tahir-ul-Qadri; He indeed is an example for others to follow.
Allama Rana Idrees has begun his duty as Nazim Dawah and Tarbiah and Member of the central CWC of MQI. His experience of Dawah and Tarbiah in Europe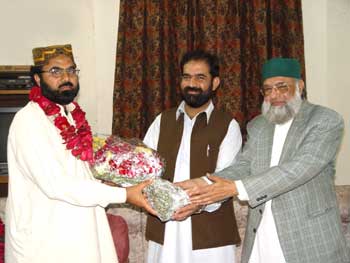 over the past decade will prove to be an inspiration. Modern western methods of Training and Dawah will be implemented by his department truly benefiting the mission from his valuable experience and abilities. Leaving his life in the London, he too came to serve the mission according to the wishes of Qaid Inqilab, putting the mission first and foremost.
Allama Ali Akbar Qadri Al-Azhari has begun his duties as the Chief Editor of the MonthlyMinhaj-ul-Quran Magazine. He is a scholar of great repute with years of experience in the field of Islamic research who is doing his PhD from Punjab University. He will no doubt take the magazine to new heights and make it a true means of propagating the mission to every corner of the country and to subscribers abroad. Rather than availing the opportunities to take up a lucrative research career, he also sacrificed his ambitions and career for the mission and its leader.
The commitment and dedication of all three was highly praised by the special guests and speakers at the reception: Nazim Ala Dr. Raheeq Ahmad Abbassi, Ameer Tehreek Miskeen Faiz-ur-Rahman Durrani, Sheikh-ul-Hadith Meraj-ul-Islam, Mufti Abdul Qayyum Hazarvi, Muhammad Samiullah, Manzoor Ahmad Tirmazi, Haji Manzoor Ahmad, Mian Mumtaz, Dawood Hussian MashHaddi, Ahmad Nawaz Anjum, GM Malik, Col(R) Ahmad, Col(R) Fazl Ameen, and many others.