Minhaj Welfare Foundation- Norway sent 2 containers to Sri Lanka
Minhaj Welfare Foundation- Norway sent 2 containers filled with clothes, shoes, blankets, and other useable items to Sri Lanka for the victims of the Tsunami Disaster. Mr. Faiz Alam the Chief Organizer of MWF-Norway along with his team worked hard and managed to send the Aid Package for the victims in the very initial days of the disaster.
The local Muslim community also came forwarded and contributed by donating the stuff for the victims of the Tsunami Disaster.
Minhaj Welfare Foundation immediately arranged similar Aid packages form all over the world for the Tsunami Disaster Victims with the collaboration of the local charities.
---
Den muslimske menigheten Idara Minhaj-ul Quran sender s`ndag en container med kl`r til Sri Lanka. Allerede tidlig l`rdag var containeren stappfull av kl`r.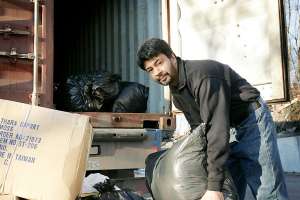 Mr. Faiz Alam Chief Organizer of Minhaj Welfare Foundation-Norway filling the Containers for the Victims of Tsunami Disaster with Clothes, Shoes, Blankets and Medicines.
Faiz Alam oppfordrer Oslo-folk til ` gi kl`r til flomofrene. Han kan n`s p` 90 61 30 27.
FOTO: JORONN SAGEN ENGEN
Tidligere leder for Minhaj Ungdom, Faiz Alam, var fredag bekymret for at de ikke skal klare ` fylle opp containeren med kl`r f`r den blir sendt av g`rde s`ndag. P` parkeringsplassen utenfor moskeen i Enebakkveien 36B p` Galgeberg st`r den slik at alle som har noe ` gi, kan kaste det oppi.
- Vi `nsket oss alt av kl`r og sko, sier Alam. Vel ` merke om de er rene og hele.
Nestleder i Islamsk R`d, Imran Mushtaq, sier at de aller fleste muslimske menighetene i Oslo samler inn penger til flomofrene.
- Vi har sendt en melding til moskeene og oppfordret dem til ` koordinere innsamlingen. Menighetene st`r fritt til ` velge hva de vil gj`re, men vi oppfordrer dem til ` ta kontakt med profesjonelle hjelpeorganisasjoner. Erfaringsmessig vet vi at penger til enkeltpersoner som skal formidle dem videre ikke gir best resultat.
Allerede tidlig l`rdag hadde givergleden v`rt s` stor at containeren var full. N` vurderer menigheten om de m` skaffe en da en container - som kan sende senere. P`gangen av folk som ringer og m`ter opp for ` gi kl`r har v`rt stor. Avgj`relsen om ` sette opp enda en container vil bli tatt f`rst til uken.
Source: www.aftenposten.no/nyheter/uriks/flodbolgen/article943408.ece