More Than 210 Trucks Sent by MWF in the Past 7 Days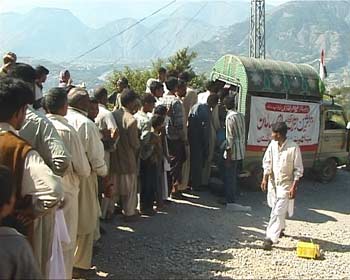 After a massive emergency relief aid for the hundreds of thousands of victims of the earthquake MWF is now entering its 2nd phase of relief to the people of earthquake.
In the past 7 days more than 210 trucks have been sent as emergency relief to the victims of the earthquake. More than 500 tons of edible items like dates, beans, flour, wheat, biscuits, bread, bakery products, oil, and other items, more than 8 million rupees of medicines, 30000 bottles of water, 45000 packets of milk, more than 40000 blankets, candles, more than 1000 Gas Cylinders and almost 700 tents have already been sent to the most hit area. MWF teams of Doctors were working through out the whole day and treated more than 600 injured in the past few days.
At present the camps of MWF in Rawalpindi, Mansehra, Rawalakot, Bagh, Abotabad and Muzafarabad are being filled and then emptied in the whole day with the items required by the people of these areas.
Minhaj Welfare foundation is now going to enter its 2nd phase of relief for the victims of the Earthquake. MWF is going to establish Minhaj Camp Village for the homeless people. More than 2000 tents have been orders and Inshallah within a day or so MWF will make its first Minhaj Camp Village near Muzaffarabad. These villages will provide temporary but proper residence to more than 15000 people in the initial phase. The winter season has started and within the next few days it will be almost impossible to live without a proper warm shelter.
Inshallah in the 3rd Phase MWF will rebuild proper villages for the people who have got a second chance to live their life. These villages will be made with all the basic facilities.
Pictures of the EARTHQUAKE RELIEF AID can be seen on the webpage of welfare www.welfare.org.pk and on the main page of Minhaj www.minhaj.org