Meena Bazaar held at Idara Minhaj-ul-Qura'n : Copenhagen, Denmark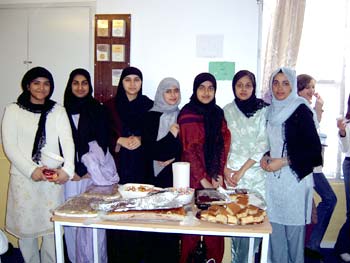 On the 11th of April 2004 a big culture gathering, called a MINA BAZAR was arranged by Minahj-ul-Qur'an women youth league sisters in our Idara which is an Islamic Center in Copenhagen.
The aim of the event was two fold.  Firstly we wanted to attract new sisters to our centre who do not normally attend Islamic events and talks, feeling intimidated and sometimes just think Islam is boring.  Alhumdulilah with the Grace of Almighty Allah we had a very good turn out.  Sisters from all walks of life came; including those who perhaps have never attended a program organized by "Hijaabi's" also came along and enjoyed themselves immensely!  Many students currently studying in Idara Minhaj-ul-Quran arrived with their mothers who liked the atmosphere.
Breaks were provided for Salah times and the sisters were encouraged to pray too.
The Women and Youth league sisters participated with a great passion and enthusiasm. They set up different stalls selling Hijaabs, Abaya's, dresses, delicious and palatable foods and much much more.  Competitions were also held with distribution of prizes at the end.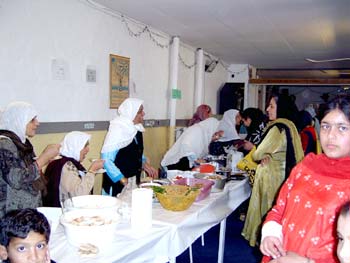 During the event other Islamic activities run by the Idara were advertised which include Islamic study circles, Qur'anic classes, Dhikr Mehfils  and regular talks and speeches by a variety of scholars.
The second reason for the event was to raise funds for the forthcoming Milad-un-Nabi programmes to be held in the next few weeks and Alhumdulilah we reached our target!
May Allah ta'ala with the Wasila of the Holy Prophet (saw) accept our humble offerings and place His Baraka and Blessings in all that we do.  Ameen.
Reported by Asifa Uppal
Minhaj-ul-Qur'an Women/Youth League
Media/Information Dept.