EID MILAN PARTY
At The occasion of the Eid-Ul-Fitar we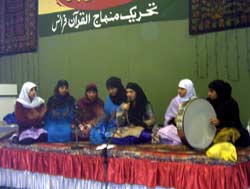 organized a program to enjoy the ceremony together. The stage secretary was realised but Madam Shamim Zahoor and Madam Ishrat Khawaja who created a very warm atmosphere.
Recitation of Quran, which took us in a spiritual dimension, was realized by Zarina Mustafavi, followed by Iram Hamayun who recited a Hamd-E-Bari Tallah with her melodious voice. Mrs Sitara Malik sang a very beautiful Naat-e-Rasool SAW : "Aqa SAW di mehfil sajan lavan" which influenced every body to imagine just 5 minutes where we are? Our aim? How we came here? And then you can realize how much this mission is a benefit for us…And how lucky we are.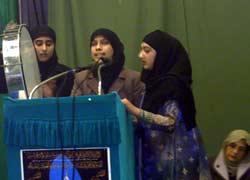 Then two little sisters presented a drama of the poem of Illama Iqbal which is "Aik phahar or khoulairi" in witch they taught us that every body has a rule on this world and nothing is superfluous.
After it Sister League group sang  a National song : "Darti hai MAN…" They realised a very good performance which excited and woke up the audience. It is true that we often forget that our real country is PAKISTAN but Thanks God that some people are here to remember us our goal…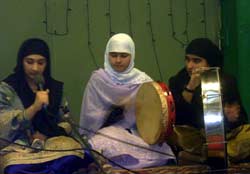 A competition of poem was organised for women who participated and received gifts… Of course, I don't have to forget to point out a very special moment of our program which was the Qawali of Qawal Group of Sister League…
Vo hatha rahai hein pharda choupkai choupkai sai To continue Raheela Abid and Mrs Mumtaz Malik sang naats which improved  the program's atmosphere : Tou sham meri salat hai Allam tera parvana…
Finally a competition of foods (banana) and entertainments questions were realised Followed by Salam and Doa. At the end of the program every body was invited to the Langar-e-Ghosia.