New Year Eve's Dhikr, London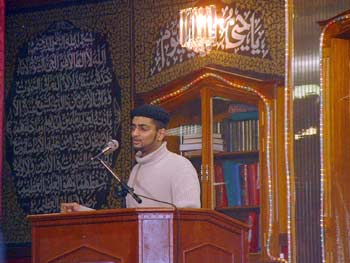 Date: Friday 31st December 2004
Venue: 294 Romford Road Forest Gate, London
Stage Secretary; Br Rafiq
Tilawah: Br Kashif
Special Guest Speaker: Sidi Ahmad Thomson
Other Main Speakers: Sr Khadija Atkinson and Br Waqas Amin
Organisers: Minhaj-ul-Qur'an London Youth league
Alhamdulillah by the blessings of Almighty Allah and His beloved Prophet (saw) approximately 200 people, men and women of both youth & elders gathered to take part in this spiritual programme.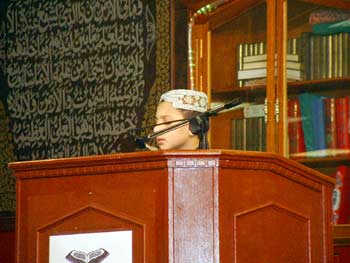 The New Year Eve Dhikr project started a few years ago to offer a spiritual alternative for the youth. We are all aware of the blameworthy activities that normally take place during this time. Therefore instead of participating in activities that break the laws ordained by Allah (swt) our youth were presented with the opportunity to spend the night in His remembrance instead.
The programme commenced with a beautiful recitation of the opening ruku's of Surah Bakarah followed by its translation. The audience was urged to listen with utmost concentration and to allow the words to wash over them.
Br Waqas Amin delivered a dynamic speech based on knowledge. He stressed the need of following a Madhhab and qualified scholarship. He explained that we are not in a position to directly consult primary texts, and pointed out that just as we would not accept a medical diagnosis from someone who had read a few medical journals we should not accept the religious opinions of those who are not qualified in this field including our own selves. He explained that because of the negative influence of the West, we are unable to accept authority and understand our own limitations.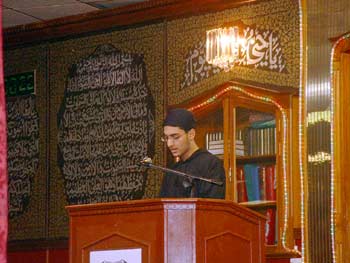 Br Rafiq further elaborated on Br Waqas's speech by quoting a poem by Mawlana Rumi, who has said (as rendered into Urdu): molwi har giz mawla-e-rum na bana, jab tak shamsh tabrez ka ghulam nabana – a priest didn't become a master Rum, without having become a servant of the mystic Shamsh Tabrez. Br Rafiq also pointed out that those who do not have a Sheikh/teacher have Satan as their teacher.
Sr Khadija delivered an intellectual speech in which she described the loyalty and obedience of the Sahaba when they supported the Holy Prophet (saw) as he signed the peace treaty of Hudaybiya which was seemingly disadvantageous to the Muslims. The peace treaty of Hudaybiya later proved to be victorious for the Muslims, giving us an insight into the political leadership of our Beloved Prophet (saw). She pointed out that Islam is fundamentally about peace and tolerance and there are certain criteria's that need to be met before one goes to Jihad. She also stressed the importance of attaching ourselves to those who are busy in the remembrance of Allah (swt), pointing out that we do not appreciate something until it has gone, citing the recent departure from this world of the great Sheikh Muhammad bin `Alawi al-Maliki al-Makki.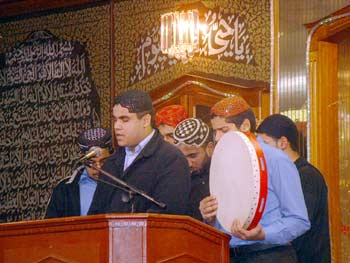 The lectures were separated by several na`ts sung by Br Dawud, Br Bilal (a new comer), Sr Tayyaba and Sr Tanzila together, Br Abu Bakr, Br Umar, and last but no means least, in a group by Brs Umar, Imran, Waqas Amin, Saad, Waqas, Usman and Hafiz Imran. Na`ts were in English, Arabic and Urdu.
Sheikh Ahmad Thomson, author of the famous book; Dajjal – The Anti-Christ, spoke about the virtues of Dhikr. He explained that gatherings of Dhikr are gardens of paradise. He also spoke about the Awliya-Allah (friends of Allah) and likened their existence to souls. He explained that the Awliya are the soul of Earth, which keep the Earth alive. Hence when none of the Awliya remain on the planet that would surely be the end of the world. He led Dhikr in which he recited Astaghfar 100 times, Darood 100 times and the Kalima Shahadat 100 times followed by a recitation and translation of a Qasidah.
The programme rightfully ended with extensive Dua by Sidi Ahmad Thomson.
Free Islamic literature and food was served.
We would like to thank all those who went to great efforts in preparing and organising this special programme. May Allah (swt) reward them in abundance and shower His mercy and blessing on them and give them the tawfeeq to organise more special programmes in the future, Ameen.
Reported by Alveena Salim