Mawlid-un-Nabi (SAW) Programme by Minhaj-ul-Qur'an Women League – Jehlam Cant Pakistan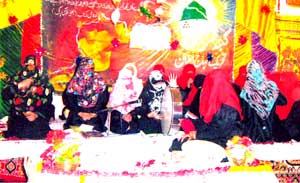 On the 18th March 2007, by the Grace of Allah Almighty and His Beloved Prophet (SAW), Minhaj-ul-Qur'an Women League and Sisters League, Jehlam Cant, Pakistan celebrated the happiest day in the Islamic calendar, the birthday of our Beloved Prophet Muhammad (SAW).
Sisters from many different backgrounds all gathered to take their part in Allah's Rahmah and Blessings. Alhumdulilah there was a huge attendance.
The conference commenced with the recitation of the Holy Qur'an. The sisters Minhaj Naat Council read Nasheeds including collective 'salat u salam' and 'darood' upon the Holy Prophet (SAW) during intervals followed by nasheeds read by a variety of sisters.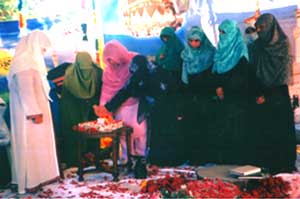 Dr Noshaba Hameed, President Women League Punjab was the guest of honor who has dedicated her life to Islam.
Then sister Razia Shaheen Central Nazima Dawat – Lahore Secretariat was invited to express her views on this great occasion and explained to us why the love for the Prophet (SAW) is imperative in our lives.
Finally the conference ended with the recitation of greetings and salutations on the Holy Prophet (SAW) and a Du'a.
Reported by: Rabia Urooj Malik (Women League Pakistan)