Farewell to Ramadhan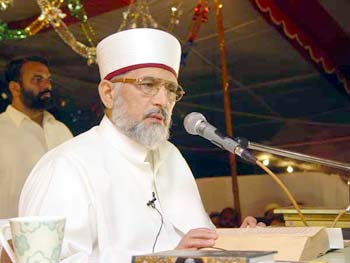 As Ramadhan has ended I bid it farewell with sadness, like saying goodbye to good friend, hoping to meet again in a year.  This Ramadhan has given me the opportunity to reflect more on the way I have practised Ramadhan in the past.  One can always feel the arrival of the blessed month is near, there is something in the air, usually a sense of rush and chaos and for some of us the urge to focus and reform. The many days of shopping for Eid clothes, the endless food stock and trying to adjust to a new routine of those very early mornings is what Ramadhan has always meant for me in London.  However my whole perception has changed after having spent one Ramadhan in Lahore, which was an experience of a lifetime.
I had the opportunity to read my tarawih prayers behind an Imam and hear the beautiful recitations of the Holy Quran, and it was an entire month of spirituality, a sense of deep feeling for Islam, which I had not experienced before.  Looking back on my year in Pakistan I plead guilty with a rooted sense of regret that I did not always make the most of it.  During my stay there (studying at the Institute of Classical Islamic Sciences (ICIS), I often longed for my mums cooking at the end of the day, when it was near the time of iftari, craving desserts, cheeses cakes, ice creams, custard, chocolate muffins….  In addition, part of the ICIS course meant getting up regularly for Fajr, engaging in collective Dhikr after prayers, attending Mehfils as well as lectures and then praying tarawih prayers at the end of the day, so I longed for my warm cosy bed and the many hours of sleep I had spent  in London.
Nevertheless, despite all of my worldly desires that I desperately craved, I struggled on and then had the privilege (in retrospect!) to sit in nafl ihtekaf.  Ihtekaf consists of spending the last ten days of Ramadhan solely in  Ibadah, worship of Allah Almighty, and an opportunity to cleanse the Self from the very things I was trying to fight off. It was an opportunity to learn to eat, sleep and talk less and to substantially increase my daily worship.  During this time I also had the opportunity to listen to the daily speeches of Shaykh-ul-Islam, Dr. Tahir-ul-Qadri , who gave some inspirational lectures.
The best experience was to be present in the Laila  tul  Qadr gathering, which was a whole night of worship and spiritual uplift.  This took place in the Minhaj-ul-Qur'an mosque, Township, Lahore with thousands of participants. The sheer size of this blessed gathering was beyond my imagination in comparison to any religious gatherings back home.  This night involved the rush of bodies to sit at the front to get the best view, (although the hospitality of the organisers who gave us VIP treatment, being foreigners safeguarded against this!) and performing my sajud during salah by hitting the back of the sister praying in front of me. However the thousands of Muslim brothers and sisters who were present throughout the whole night symbolised for me the true meaning of the word Ummah and being a part of it.  It gave me a glimpse of how we would be gathered together on the day of judgement with nothing but our deeds and intentions to be of use.  .  It was a time to reflect for all of us, to search our inner souls and sincerely repent, seeking Almighty Allah's forgiveness for the wrongs we had committed. 
However, in no time, this sacred month ended as quickly as it had started.  I spent most of the last day of Ramadhan crying.  This was not because the blessings of this month had ended, but because it was Eid back home in the UK and I could not be with my family who I was longing to see. Looking back I realised how much I had yet to learn and appreciate.  
The following day was Eid which was my first away from my family and looked to be a tough day.  We awoke early to attend Eid prayers, then I did go to see my family, maybe not linked to me through blood, but this was my newly found family as we were all invited to spend some of our day with Shaykh-ul-Islam and his family.
For a man who has so many commitments and so many duties to undertake, he sacrificed time for us.  His family welcomed us into their home and made it feel like ours.  In a time of loneliness, they opened their  arms to us.  In a time of festivity, they celebrated with us and in a time when we had no family their hospitality was heartfelt.  .
So a year on I still cry. Last year at the end of Ramadhan, I cried because I longed for my family, but now I have my family, yet I still cry.  I now cry from my sorrow that I did not always appreciate what I had.  This year I bid farewell to Ramadhan from London but I have learnt from my mistakes and Insh'Allah have every intention to make the most of every moment of this blessed month in the future when it again returns next year. Then Insh'Allah it not be a month in which I complain about the food I eat or the lack of sleep I get. I have eleven other months to eat and sleep. This will, with the grace of Almighty Allah and the wasila of his beloved Prophet Muhammad (SAW) be a month in which I can use every blessed second in ibadah, to gain a greater sense of spirituality from it and to be able to cry at the end of the month, for no other reason than the disappearance of the Holy month.
To my dear brothers and sisters, I urge you to do the same.  We cannot spend our lives blinded by this duniya as it is of no benefit to us. Do not take actions that will lead to feelings of regret. We have to work at gaining maximum benefit from every Ramadhan we live to see, since  we have no guarantee that death will not come knocking at our doors. We must turn to our Lord, as His doors of forgiveness and mercy are always open.
By Jabeen Ali