When will accused in Model Town tragedy be paraded, asks PAT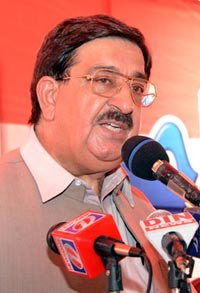 Commenting on a statement given by Punjab Minister Mujtaba Shuja-ur-Rehman at the floor of the Assembly, PAT Secretary General Khurram Nawaz Gandapur has said that the Punjab government and police arrested those within hours who disrupted the memorial ceremony for late Punjab Governor Salman Taseer by identifying them on the basis of TV footage but has failed to identify those who fired live bullets at the PAT workers for 15 hours in front of TV cameras despite passage of six months. He said that lawlessness is on the rise in the province due to double standards of the Punjab government with the result that the culture of taking law in one's own hands is taking firm root.
The PAT Secretary General said that footage of 15 hours is present in which police officials have been shown to be firing at workers and police officers patting them at their backs and ordering them to fire. He asked when will the government of Punjab conduct parade of the accused for establishment of their identity and arrest them in the light of footage of the horrible incident in which 14 people including two women were martyred and around 100 people were injured?